Your Guide to the New RHA Filler
Injectables have become very popular in the cosmetic world.  A new RHA filler is here and taking things to the next level. As the first and only FDA approved HA filler for dynamic facial wrinkles and folds, Revance's RHA filler is quickly rising to the top of the ranks.
What is RHA Filler?
This new family of hyaluronic acid fillers by Revance Therapeutics debuted in Europe several years ago but only recently became available in the U.S. RHA filler is created with a special process that uses very few chemical modifications. This preserves the natural structure of the hyaluronic acid, which allows it to mimic the natural hyaluronic acid found in your skin.
RHA 2 and RHA 3 are indicated for injection to the mid-to-deep dermis. They are used to correct moderate to severe dynamic facial wrinkles and folds, like nasolabial folds. RHA 4 is used in the deep dermis to superficial subcutaneous tissues to correct moderate to severe dynamic facial wrinkles and folds.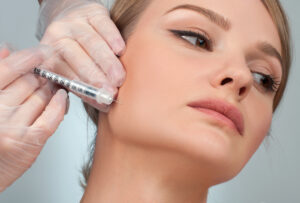 Which RHA Filler is Best?
This big difference between each filler is the amount of crosslinking between them. RHA 2 is best used for perioral lines and lip augmentation. Additionally, RHA works well for the radial cheek lines. Furthermore, it can be used in higher levels of the dermis to create a smoother, more level surface.
RHA 3 is used commonly for nasolabial folds and for deeper lines in the jawline and lower face. Finally, RHA 4 is most appropriate for deeper lines in the lower face and jawline and deeper nasolabial folds. It is also used off-label in the midface to contour cheeks.
[Related: Facial Volume Loss and Replacement]
RHA Filler for Dynamic Wrinkles
One of the most important components of the new RHA fillers is that it allows for optimal improvement. It rejuvenates the face, but doesn't affect your facial expressions. RHA fillers integrate into the tissues so well that they are basically undetectable. This effectively improves problem areas while ensuring that your face looks equally as good at rest as when in motion.
Since RHA is so similar to the hyaluronic acid already present in our skin, it adapts well to our tissue. Therefore, it offers the greatest flexibility. With RHA, you can achieve exceptional results from every angle. Including all the way through the entire length of the movement, even in the most dynamic facial areas.
New RHA Filler Near Me
Are you are ready to address your wrinkles and rejuvenate your face while maintaining the most natural looking appearance? The new RHA fillers are a great choice! To learn more about these new fillers, contact Reston Dermatology and Cosmetic Center.