Non-Surgical EMSELLA Incontinence Treatment
It's a common myth that incontinence only affects elderly people. There are many women who experience incontinence due to other reasons, like childbirth. No matter the cause, incontinence is a difficult and embarrassing thing to deal with. Fortunately, improvement is possible with non-surgical EMSELLA incontinence treatment.
Emsella Incontinence Treatment
Emsella incontinence treatment is a breakthrough treatment that allows you to sit back and relax. This new technology from BTL uses high intensity focused electromagnetic technology to stimulate muscle contractions and strengthen the pelvic floor, all while you sit back and relax. The treatment is painless and doesn't require any surgery or downtime!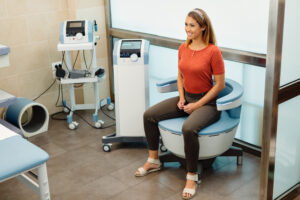 Yes, it really is that easy. You stay fully dressed and simply sit on the procedure chair. During your 30-minute treatment, the device will stimulate over 11,000 Kegel contractions to strengthen your pelvic floor muscles. These muscles support your organs, including the bladder. When they become weak, pressure on the bladder can cause incontinence. But now, with Emsella incontinence treatment, you can say goodbye to bladder leaks.
Take Back Your Confidence
This new treatment uses HIFEM technology to stimulate, strengthen and restore neuromuscular control to the deep pelvic floor muscles. Consequently, Emsella incontinence treatment is a revolutionary procedure. Moreover, it is non-surgical and requires no downtime, making it the perfect treatment option for those with busy schedules. Additionally, Emsella may also improve your sexual health.
Emsella Incontinence Treatment is Effective
Due to the concentrated HIFEM energy, intense stimulation, and in-depth penetration therapy, Emsella incontinence treatment is very effective. 95% of patients reported significant improvement on their quality of life.
Even with regular exercise, it can be difficult to restore the pelvic floor region. However, a single Emsella treatment can give you tens of thousands of Kegel contractions. Furthermore, these contractions are stronger and more intense than anything you could achieve on your own, making it even more effective.
Am I a Good Candidate?
Here a few questions to discover if Emsella incontinence treatment is right for you.
Have you reached menopause?
Have you given birth to one or more children?
Has bladder leaking limited your ability to exercise or engage in sexual activity?
Does laughing, sneezing, or coughing cause leakage?
Do you have sudden or frequent urges to urinate?
If you answered yes to any of these questions, then you may be a good candidate for Emsella incontinence treatment.
Emsella Incontinence Treatment in Virginia
If you are tired of struggling with incontinence, don't give up hope. Try Emsella! The procedure is safe, effective, and comfortable. Contact Reston Dermatology and Cosmetic Center today to learn more about Emsella.