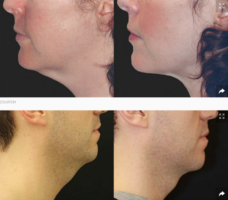 Skin Tightening
What is Skin Tightening?
Skin tightening is a non-surgical procedure that may use lasers, radio-frequency, microneedling, or fibroblasting to tighten the skin. Controlled 'damage' or heat is introduced into the skin by use of any of these devices, some are a combination. The controlled wounds signal your body to produce a cascade of healing substances that ultimately create fresh collagen. This can turn back the clock and make the skin tighter, more elastic, and supple, much like the skin you had when you were younger.
While these types of procedures won't produce the same outcome as surgery, e.g. face or neck lifts, or blepharoplasty for eyelids, the results can be enough to make that difference for you. This is especially true if you are just not ready for surgery, or are physically unable to undergo surgery, or just don't want to deal with the surgical downtime.
Our Solutions for Skin Tightening
Dr. Amiry continually stays abreast of the latest technologies for skin tightening. While he has yet to find a device that he thinks would be ideal for our patients, he does endorse Emtone, microneedling with SkinPen, and CoolSculpting for the neck/under chin area. In the meantime, Dr. Amiry continues to be on the lookout for a treatment protocol that will deliver the best tightening results to our patients that he can wholeheartedly endorse.
Emtone
EMTONE is the first and only device that simultaneously delivers both thermal and mechanical energy to eliminate all main causes of cellulite and loose skin effectively and non-invasively.
Microneedling with SkinPen
Because microneedling with SkinPen creates shallow microchannel 'wounds' into the skin, it ignites the wound healing cascade resulting in a modest amount of collagen building. When Platelet-Rich Plasma (PRP) is added to the procedure, fibroblasts and growth hormones help boost the healing process creating a fresher, better textured skin. Package of 4 Microneedling sessions $1325. PRP add $300 each session. 
CoolSculpting for Submental Area Tightening
While we can't say that CoolSculpting tightens skin in all areas, we know that it can tighten skin in the under chin/neck area when treated for fat. That's a great bonus to getting rid of a double chin with CoolSculpting! Starting at $750.