Specials & Promotions
Dr. Amiry's Corner
Vitamin D - Last week I had a patient, a geologist in Africa, who spends much of his time outside.  Despite this, his Vitamin D level is low.  Why is that? Most likely this is because of increased demand for Vitamin D in his body.  Did you know that Vitamin D is important for a variety of body systems?
In fact, it affects over 800 genes!  It affects bone health, muscle mass, cardiovascular health, cognitive behavior, cholesterol, metabolism, thyroid, hormones and insulin production.  It may also play a part in your skin's health, in conditions like acne and melasma.  So, check your Vitamin D levels.  Ask your primary care to test your blood, or we can send an order in for you.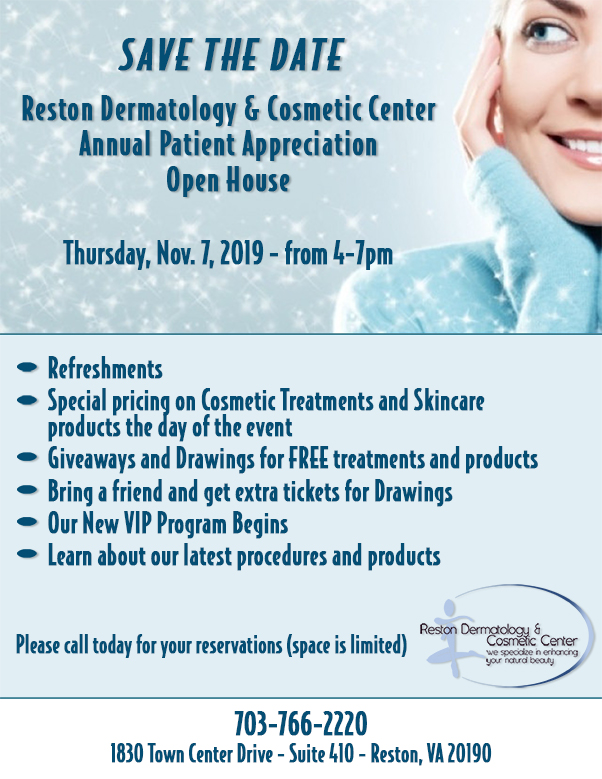 Ever wondered what injectable fillers and wrinkle erasers like Botox could do for you?
Schedule now for a professional facial analysis with Allergan expert, Lisa!
In town from Newport, RI, on this day only, Lisa will create a customized plan to erase at least 5 years from your face!
Wednesday, September 18th, 11am - 1pm only
Limited number of appointments
No obligation to purchase
Exceptionally priced packages available this day only
Goody bags for all attendees
Boxed lunches provided
New! TEXT us at 703.766.2220 to schedule!