Facial Volume Loss and Replacement
Facial volume loss and replacement can play a large roll in the aging process. As we age, we lose collagen and fat that gives the skin a youthful appearance. This volume loss makes the face look older, and more tired. However, volume replacement treatments can reverse the signs of aging and give you a youthful glow.
What is Facial Volume Loss?
If you have noticed sunken-in eyes, flattened cheeks, hollow temples, or loose sagging skin, you may be experiencing volume loss. Each person is different and experiences volume loss at different times, but it can begin in your 20s.  During your youth, fat is evenly distributed in the face, giving you plump temples, cheeks, and around the eyes and mouth.
However, aging breaks down the skin and fat pads tend to shift downward. This is due in part to natural aging and genetics. However, stress, weight loss, certain medications, and environmental and lifestyle factors can also contribute to volume loss.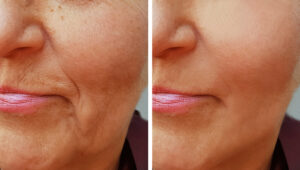 Volume Replacement Treatments
There are many options available for volume replacement. Hyaluronic acid fillers are a great way to plump the face and restore volume. Sculptra is another option. This one boosts the production of collagen in the skin and is great for long-term correction.
Volume Loss and Replacement in Men
Men and women are different physically and that is no different when it comes to volume loss. Where women are curves and softness, men are angles and sharpness. Therefore, men require a different treatment technique. Rather than adding volume and plumpness, treatment for men typically focuses on filling in the loss and correcting the volume.
Different Treatment Areas
Different areas in the face require different treatments for volume loss and replacement. For example, the temples respond well to injectable fillers such as Sculptra, Radiess Plus and Voluma. These can achieve dramatic results relatively quickly.
For mid-face volume loss, your provider may prefer a high G prime fillers like Juvéderm or Restylane. These are top choices for midface volume replacement but Sculptra can also be used for a more subtle improvement.
Fillers for Facial Volume Loss and Replacement
If you are ready to get your youthful appearance back and say goodbye to hollow temples and flattened cheeks, it's time to explore facial fillers. To learn more about what facial fillers can do for volume loss and replacement, contact Reston Dermatology today!