Skintegrity


Small batch manufacturing which specializes in products that are preservative free, gluten free, phthalate free, sulfate free and much more.
SkinMedica®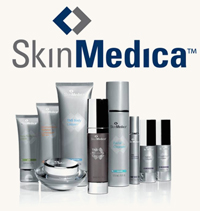 SkinMedica is an advanced line of skin care products designed to help prevent or reduce the effects of aging and keep the skin as healthy as possible. These products promote the natural healing abilities of the skin and work to regenerate the elasticity and volume that skin tends to lose over time. SkinMedica products contain many essential ingredients, including vitamin C, vitamin E, retinol, antioxidants and proteins, which work together to reduce the appearance of fine lines, wrinkles and discolorations, and improve skin texture and tone.
These products are only available from a dermatologist and include a wide array of toners, peels, cleansers, moisturizers, sunscreen and other products. For patients not yet concerned with the effects of aging, SkinMedica products can also help treat acne, protect the skin from sun damage and simply keep it looking its best each and every day. Your doctor will work with you to develop a personalized SkinMedica skin care regimen based on your individual skin needs.