Skintegrity

Are you tired of skincare lines that make big promises and fail to deliver? It's time to talk about our skincare line, Skintegrity, one of the top medical skincare lines in Northern Virginia available today.
Now you can purchase our products online!
What's in Skintegrity Skincare Products?
Skintegrity Clean Skincare is a product line exclusive to Reston Dermatology + Cosmetic Center. This custom-made skincare line is made in small batches through our partner's manufacturing line to ensure that every bottle contains the high quality that we guarantee.
Our board-certified dermatologist, Dr. Amiry, firmly believes in high-quality, medical-grade skincare. Our medical-grade skincare is targeted to specific medical conditions and skin needs such as acne or anti-aging.
In comparison to over-the-counter skincare, medical-grade skincare contains higher concentrated amounts of active ingredients. Additionally, the products go through a lab-tested process that ensures they are effective in treating skin concerns. Because Skintegrity Clean Skincare was created by a board-certified dermatologist, each product is certified to receive 100% safe and effective results.
What's NOT In Skintegrity Skincare Products?
Furthermore, Skintegrity Clean Skincare keeps a long list of ingredients out of its product formulations to ensure our patient's safety and satisfaction. Our formulations are cruelty-free, vegan, gluten-free, and dairy-free. We do not support animal testing nor the use of animal byproducts in our ingredients.
[Related: Natural Skincare Tips]
Medical Grade Skincare that is All Natural
Additionally, Skintegrity is free of any preservative, phthalate, sulfate, formaldehyde, paraben, talc, and fragrance to allow sensitive skin to use our product line. The use of such ingredients contains the possibility for irritation and are deemed unsafe in products for the skin due to being linked to various health issues.
Skintegrity's brightening products do not contain any form of hydroquinone, but rather alternative natural forms that can achieve effective results to unwanted hyperpigmentation.
Skintegrity is:
Preservative-free
Gluten-free
Phthalate-free
Paraben-free
Sulfate-free
Fragrance-free
Coral reef safe
Animal cruelty-free

Talc-free
Animal oil and musk free
Formaldehyde-free
Mineral oil-free
Hydroquinone free
Triclosan free
Dairy-free
Vegan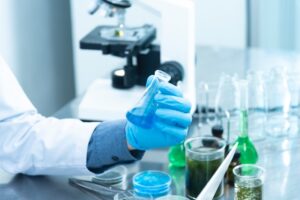 Reston Dermatology's exclusive skincare line, Skintegrity Clean Skincare, contains products ranging from targeted cleansers, topical anti-aging preparations, topical brightening preparations, targeted acne treatments, eye area products, barrier enhancement agents, and sunscreen.
Targeted Skin Cleansers
calm + clean foaming cleanser
This versatile, foaming cleanser can be used on even the most sensitive of skin. Without stripping the skin's natural barrier of its natural moisturizing factors needed for healthy skin, it works to cleanse off the day. Additionally, its fragrance free and redness reducing nature works for rosacea and redness-prone skin.
soft + smooth gel cleanser
This refreshing gel cleanser is perfect for anyone with oily, combination, to normal skin. It works to unclog pores and minimize oil production. With the 30% glycolic acid, it works to exfoliate thus evening out and brightening the outer surface of the epidermis.
Skin Renewal
lineless + luminous antioxidant serum
This morning antioxidant CE ferulic serum fights harmful free radicals in the skin caused by environmental stressors such as UV and pollution damage. In addition to its protective properties, it brightens and smooths skin texture by reducing fine lines and wrinkles. The harmonious effect of 30% pure vitamin C and pure vitamin E boosts the antiaging properties. Likewise, this formula works to enhance retinoid effectiveness.
clear + clarify exfoliating pads
These daily exfoliating, cleansing pads are targeted for those with oily and blemish-prone skin. The salicylic acid works by exfoliating the outer surface of the skin and unclogging pores resulting in a deep cleansing. Oligopeptide-10 is a synergistic ingredient with salicylic acid, increasing its efficacy in preventing the bacteria that causes acne.
pretty + polish weekly peel pads
A once-weekly peel pad that can range from a mild to intense exfoliation depending on the contact time. It aims to smooth skin texture and reduce the appearance of large pores in oily skin types. The 5% concentration of TCA and azelaic acid makes for a more stable and less irritating formula. The additional 5% salicylic acid improves product penetration thus increasing other skincare products' efficacy.
fresh + flawless all-in-one crème
This nighttime all-in-one product has it all. There is an intensive combination of a retinoid, peptides, antioxidants, and plant growth factors. This formulation results in minimization of fine lines and wrinkles, improvement of skin texture, reduction of pore size, and decreased amount of acne. It can be combined with another retinoid product to increase the effectiveness of the retinoid properties. This all-in-one crème is formulated to nourish the skin to its full radiance and health.
gloss + glow daily toner pads
These toner pads are gentle enough to be used every day after cleansing. It targets the improvement of skin texture by exfoliating the outermost layer and cleansing the pore of impurities itself. There is a unique combination of 2% TCA, azelaic acid, salicylic acid, and Niacinamide. These active ingredients work together to support the skin's barrier and balance oil production. Additionally, the active ingredients work to fight acne for acne-prone skin.
Skin Tone Management
refine + reveal pigment pads
These moderate exfoliating pads are targeted for hyperpigmentation, age spots, and evening out skin tone. Both lactic, azelaic, and phytic acid work harmoniously to brighten the outer layer of the skin. These ingredients promote glow and radiance to the epidermis that is maintained with healthy skin.
blend + bright brightening serum
This natural skin brightening serum is a powerhouse for mild to severe skin discoloration. It corrects pigment on the epidermis through vitamin C, arbutin, and Kojic acid. Arbutin not only fades hyperpigmentation but disrupts the conversion of melanin into unwanted dark spots. For best results, it should be alternated with a retinoid.
renew + radiant anti-aging brightening cream
This highly active, custom blended cream is targeted for reducing skin discoloration. Vitamin C, Kojic acid, and retinol are powerful ingredients that synchronize to fight against hyperpigmentation. Retinol increases cell turnover, which makes it a great anti-aging formula. This all-in-one hyperpigmentation fighting serum works diligently due to its high concentration of active ingredients without using potentially irritating bleaching ingredients.
Eye Area Treatment
rest + refresh daily eye cream
This daily eye cream effectively treats fine lines, wrinkles, dark circles, and puffiness associated in the eye area. It is gentle enough that it can be used day and night, but effective enough that it can be used on the most sensitive area of the face. The nutritious ingredients include plant-based growth factor, Kinetin to aid in the anti-aging factor. Hyaluronic Acid is used to boost volume and plump up the affected area.
Barrier Moisture Enhancement
hydrate + healthy calming moisturizer
This rich, creamy formula is used to fortify the skin's natural barrier function and lock in moisture. Pantothenic acid keeps the skin soft, supple, and healthy. Additionally, it is an anti-inflammatory agent that aids in stimulating the skin's healing processes. This product is versatile enough that it could be used in conjunction with a moisturizer or on its own as a moisturizer.
enhance + enrich hydrating balm
Our most popular product, and no wonder! It's an all-in-one beauty balm that contains active ingredients that are aimed for anti-aging, locking in moisture, and enhancing the skin's natural barrier. This multi-tasking formula contains all the benefits of a retinoid, minus the retinoid ingredient, which makes it perfect for all skin types, including sensitive. Instead, it contains niacinamide, which fortifies the skin's barrier, improves pore size, and diminishes dull skin. As an extra, this formulation contains a modified form of hyaluronic acid allowing for enhanced hydration all day long.
Sunscreen
shine + shield physical sunblock
This SPF 40 broad-spectrum sunblock is an essential step in every skincare routine. SPF is the first line of defense for protection against the sun's harmful UVA and UVB rays, that aids in fighting signs of aging. Contains none of the chemicals responsible for coral reef damage. This formula contains a minor tint to combat white cast. Reapplication is necessary every 3-4 hours, including post-procedure.
[Related: Different Types of Chemical Peels]
iS Clinical SKINCARE PRODUCTS
What Exactly Is Clean Beauty?
Conscious consumption has become a huge part of the overall wellness trend, people are educating themselves more on the ingredients that they put in or on their bodies. Clean beauty has greatly emerged in response for greater transparency, sustainability, and healthy options – but what does clean beauty really mean?
There is no standard definition for Clean Beauty or regulations by the FDA to help further define what constitutes a "clean" label. While there are variations in what qualifies as "clean beauty," most brands and consumers consider clean beauty to be created mindfully without the use of harmful ingredients both proven and suspected.
Is It Safe for Pregnant and Nursing Women?
As a brand, iS CLINICAL is dedicated to enriching overall skin health with scientifically advanced, clinically proven formulas. All iS CLINICAL retail products are botanically based, non-systemic, formulations. These potent botanical ingredients are gentle but effective and do not get absorbed and cross into the blood system – making our products considered safe during pregnancy and nursing. We always recommend consulting with your skin care professional or physician prior to introducing a new routine or product.
iS Clinical Fire + Ice Facial
Performed by our Master Aestheticians, the legendary FIRE + ICE FACIAL is designed to rapidly and safely resurface and rejuvenate the skin with little or no down time. This professional treatment helps reduce the appearance of fine lines and wrinkles and improves the look of uneven skin tone and blemish-prone skin, resulting in a more youthful complexion. This facial is also safe for pregnant and nursing women.
iS Clinical Skincare Products
PRO-HEAL SERUM ADVANCE+
PRO-HEAL SERUM ADVANCE+ features our scientifically advanced L-ascorbic acid (vitamin C), combined with a superior form of Olive Leaf Extract and pure Vitamins E and A. This powerful formulation significantly increases antioxidant protection while helping improve the appearance of compromised, blemish-prone, and aging skin. Put a drop on an emerging blemish and poof!, it's gone almost overnight!
HYDRA-COOL SERUM
HYDRA-COOL SERUM is formulated to rejuvenate, hydrate, and visibly soothe the skin. This refreshing, powerful, penetrating serum combines superior antioxidants with essential botanicals and bio-nutrients. HYDRA-COOL SERUM is designed for all skin types and for all ages, and is gentle enough for even the most sensitive skin.

Top Medical Skincare
If you are ready to have healthy, glowing skin, its time to give Skintegrity a try! Contact Reston Dermatology today to learn more about these medical-grade skincare lines or purchase products online!