Aesthetician Services

DermaSweep / Microdermabrasion
Microdermabrasion is a noninvasive procedure that offers the safe and controlled removal of the outer, dead layers of the skin. It is a unique process of microdermabrasion where treatment serums such as Vitamin C, Saliclic Acid, Glycolic Acid, Hydrating, or a botanically based lightening are used during the treatment for enhanced results.  We will customize your treatment based on your individual needs.  The massaging action of the treatment creates a mild flushing and cleansing effect below the skin surface.  Your skin will be vibrant and have a healthier appearance. Appropriate for pregnant women. No downtime.
40 min $175
Micro Peel - Add a mild chemical peel and enzymes for enhanced results. $210
DermaSweep video demonstration:
Tama Blue Onyx microcurrent
TAMA Blue Onyx Microcurrent is a non-invasive treatment that rebuilds and strengthens the facial muscles.  It is a low level of electrical current that mirrors the body's own natural current.  It helps with anti-aging by diminishing the appearance of fine lines and wrinkles, improving the texture and appearance of the skin, re-educating and toning facial muscles, and reducing overall visual appearance of aging.  It's a service that is non-invasive without the recovery, downtime, and expense of surgeries.
Benefits of TAMA Blue Onyx Microcurrent Treatments
Revitalizes the skin
Lift jowls and eyebrows
Smoother and firmer skin
Improves muscle tone in face and neck
Clears up or reduces acne
Drains lymphatic nodes
Improves circulation and elasticity
Calms Rosacea
Diminishes appearance of fine lines and wrinkles
Facilitates product penetration
60 min  $150
Clinical Acne Treatment Facial
This treatment is for specific conditions such as acneic , sensitive and intolerant skin. High frequency oxygenation is used, which aids blood circulation, eliminates toxins and acne-causing bacteria, and anti-bacterial effect that helps treat and prevent future breakouts. Steam and Extractions are included. Targeted more for acneic and oily skin.
Melanage mini peel
The Melanage Mini Peel employs a powerful combination of acids and retinol to reduce brown spots & stimulate collagen production, dramatically improving overall skin tone.  Achieve maximum results from a series of peels.  Suitable for all skin types including darker skin tones. Specially formulated home care products are included with each peel.
Benefits of the Melanage Mini Peel System:
Reduces brown spots (hyperpigmentation)
Diminishes acne lesions and scarring
Reduces fine lines through collagen stimulation
Creates a brighter complexion
30 min $450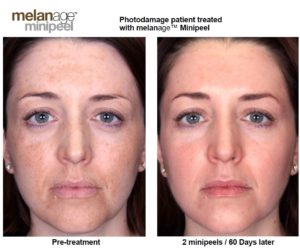 IMAGE vitamin c signature peel
This revolutionary treatment performed in four layers will change the image of your skin in just one application. Vitamin C, Glycolic Acid, and gentle but highly effective enzymes speed up cellular turnover and brighten, tighten, and lighten your skin in just one treatment. Revitalize dry, dull, aging skin with this Vitamin C enriched hydrating facial.
30 min $150
Luminous Glow Facial
The facial that gives quick results without any downtime. Cleansing with our glycolic acid cleanser and applying a gentle peel that will help brighten, tighten and hydrate your skin. Extractions included, if needed. Followed by our Vitamin C SPF 40 Sunscreen. This is the perfect treatment to do before a special event as it will leave your skin looking bright and luminous.
Luminous Glow Facial - 50 min $175
*(Add Hand or Décolleté Peel Treatment for extra $25)
Calm and Hydrating Facial
Designed to calm, soothe and reduce red sensitive skin while boosting hydration. Targeted to help with rosacea, eczema and post laser treatment skin.
Calm and Hydrating Facial - 40 min $135
Back Facial
Helps to unveil healthier and clearer skin. Extractions included, if needed. For acneic and oily skin.
*(Add a Peel for extra exfoliation $99) 40 min $135.
Extractions Only
Spot Treatment $25 Face $100 / Back $120
Facial Waxing
Our gentle method of waxing does not use strips. Please discontinue Retin-A or equivalents 5 days prior to waxing.
Eyebrows $25
Upper Lip $20
Face $62
Eyebrow/Eyelash Tinting
Enhance your natural beauty with specialized eyebrow and eyelash tinting. This is customized for your individual needs. Tinting lasts approximately 3 weeks.
Eyebrows $30
Eyelashes $30
Chemical Peels
Chemical peels remove damaged outer layers of skin to make skin smoother, reduce scarring and remove blemishes. Ranging from mild to strong, there are three types of chemical peels: alphahydroxy acid (AHA), trichloroacetic acid (TCA) and phenol. The strength of each peel is tailored to the patient. Peels can be combined with other procedures, such as facelifts, for additional improvement to skin. Chemical peels may be covered by insurance if they are performed for medical rather than cosmetic reasons.
Chemical peels are performed in a plastic surgeon's or dermatologist's office, or an outpatient surgical center. Anesthesia is not required because TCA and phenol have anesthetic properties, and AHA produces only a slight stinging.
Airbrush Tanning
Airbrush tanning is an effective form of sunless tanning that is a safe alternative to exposure to the harmful rays of the sun. Spray-on body bronzing delivers a natural-looking tan without the harmful effects of the sun or the tanning bed. With sunless tanning, there is no risk of sun burn, wrinkles, or skin cancer. A airbrush tanning treatment can help you to maintain a rich-looking skin tone all year round.
The tanning solution used for the spray-on tanning process contains dihydroxyacetone, also known as DHA, a sugarcane derivative. When DHA is applied to the skin, it combines with the amino acids within the skin, resulting in a bronzing effect, without the damaging affects of UVA and UVB exposure to the sun.
Preparing for the Airbrush Tanning Application
To ensure that the bronzing process is completely effective and has optimum results, prior to the appointment individuals should:
Shower
Exfoliate
Shave or wax
It is also not recommended to wear any perfumes, oils or lotions as they may interact with the effectiveness of the DHA. Clean, bare skin works best with the airbrush tanning process. The entire process takes under 20 minutes. Trained professionals will use a handheld airbrush sprayer to apply the solution to the skin.
After the Body Bronzing Application
After the application of the sunless tanner, individuals should wait five to ten minutes before getting dressed into loose-fitting clothing. Individuals are also advised to refrain from showering for at least six to eight hours after the application.
The body bronzing process is quick and the results are immediate. The bronze color should last from six to ten days depending on the dryness of the skin. Applying moisturizer to the skin can help the tan to remain for the maximum amount of time.