EMSCULPT NEO | BUILD STRONG MUSCLE AND REDUCE PESKY FAT
Emsculpt NEO is the first body shaping treatment of its kind. This treatment is the only body shaping method to achieve FDA clearance to build muscles and burn fat. Scientific studies show this treatment, on average, increases patient muscle mass by 25% and decreases fat by 30%. These results distinguish the Emsculpt Neo as the most effective fat reduction treatment, making it a fast and effective way to reduce fat while building lean, strong muscles. Treatment areas include the abdomen, arms, legs, and even buttocks. Moreover, the 30-minute procedure is painless, safe, and requires no downtime.
Learn more about the non-invasive body shaping treatment by scheduling a free consultation with Reston Dermatology + Cosmetic Center. We are a leading provider of Emsculpt in the Reston, VA area. Call us at 703-775-2190.
Slim, sculpt, and strengthen your physique
Reduce persistent fat cells in problem zones
Build, tone, and firm muscles
Natural, lasting results
FDA cleared
Scientifically proven safe and effective
Painless and no downtime
Convenient 30-minute treatments
EMSCULPT NEO BEFORE AND AFTER*
Emsculpt NEO before and after pictures prove this treatment is in a league of its own. As with any body-shaping treatment, results will vary*. However, the before and after images show actual results from genuine patients of this new treatment.
The best way to secure transformative results is by selecting a reputable, skilled professional. This body contouring treatment is a technique-sensitive procedure. The more experienced the treatment specialist is the better your results.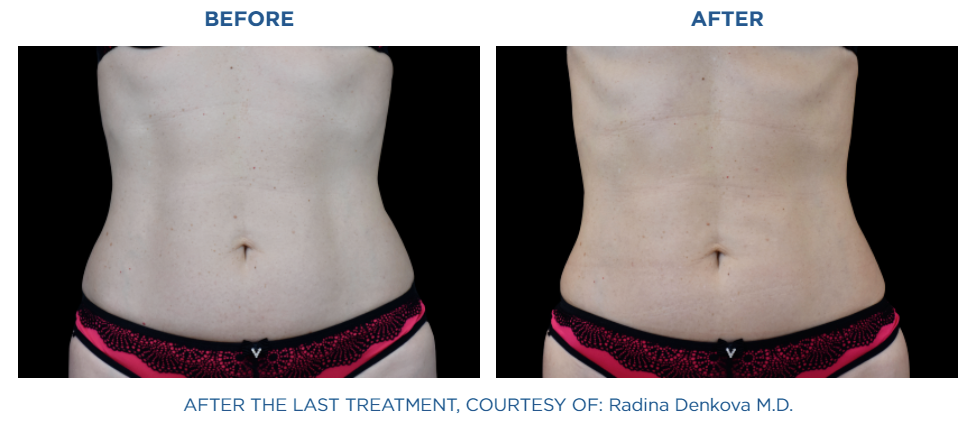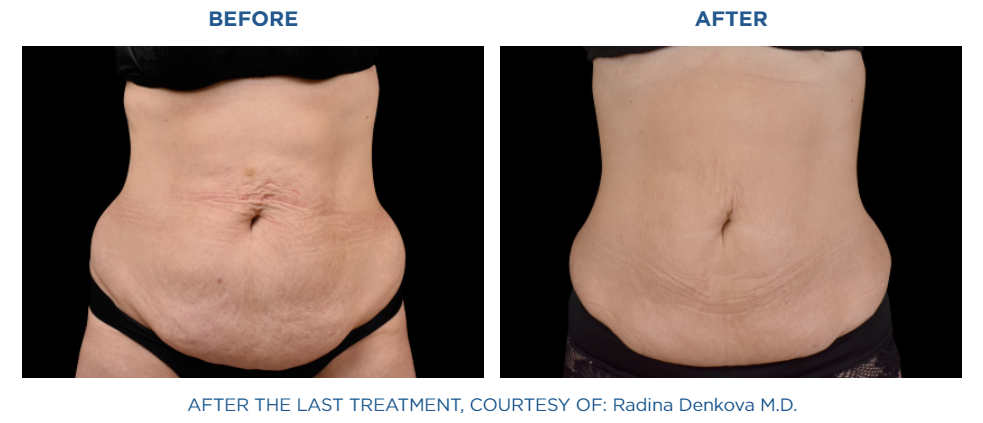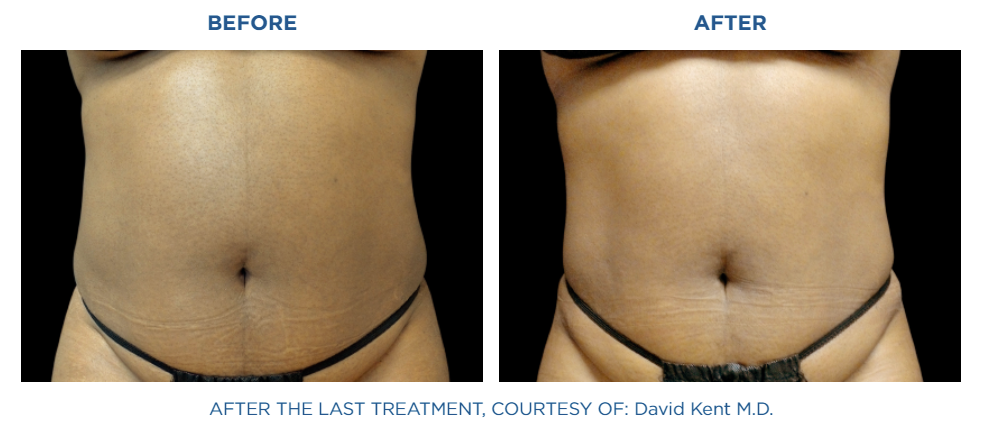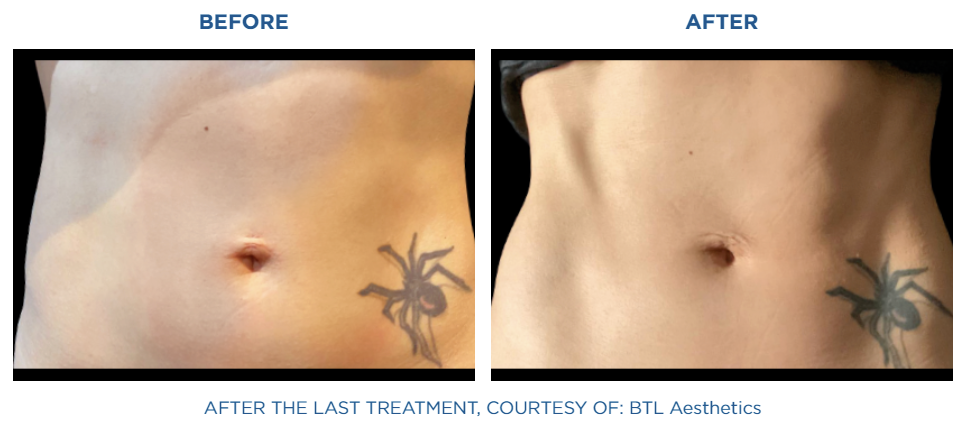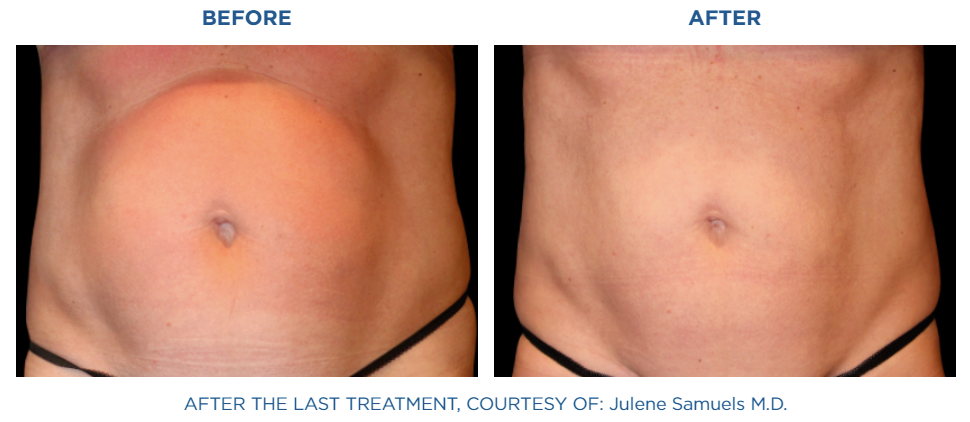 WHAT MAKES EMSCULPT NEO DIFFERENT?
Emsculpt NEO is different from the original Emsculpt in a few ways. The new treatment utilizes the same High-Intensity Focused Electromagnetic (HIFEM) energy as the initial treatment. However, Emsculpt NEO goes a step further by incorporating Radio Frequency energy. The addition of RF technology enhances the procedure's ability to destroy fat cells. Furthermore, the new Emsculpt treats a broader demographic than the original treatment. The new treatment is suitable for most body types (with BMIs of up to 35.)
HOW DOES THE NEW TREATMENT WORK?
During a 30-minute treatment, an applicator emits HIFEM and RF energies simultaneously. Radiofrequency delivers thermal energy to the tissues, warming up the muscles while heating the fat cells. Within minutes the subcutaneous fat cells begin to die.
While the fat cells are dying, the HIFEM energy penetrates the muscle tissues stimulating powerful contractions. These contractions are known as supramaximal contractions. The contractions work the muscles more intensely than manual exercise. Once the session is finished, the treatment induces more than 20,000 contractions in the target muscle group. The body creates more muscle cells and enhances muscle fibers to adapt to the stress of the contractions.
After the treatment, the dead fat cells process out of the body through the lymphatic system. Once removed, they can never grow back or be replaced. This body shaping treatment provides last fat reduction as long as the patient follows a healthy lifestyle afterward.
Emsculpt NEO is FDA cleared to treat four areas of the body:
Abdomen: Strengthening the core, reducing belly fat, and sculpting abs.
Arms: Enhancing triceps and biceps.
Legs: Firming the upper legs and calf muscles while toning the thighs.
Buttocks: Providing a non-surgical alternative to a butt lift with a subtle lifting effect while toning and firming the buttocks.
After your treatment, many patients experience mild muscle soreness. This sensation is comparable to the feeling after an intense workout and will go away after a day or so. While results are possible after one session, typical treatment plans consist of 4 sessions, usually spaced 5 to 10 days apart.
Clinical studies show that this body contouring treatment results in dramatic changes to the physique. On average, patients can experience a 25% increase in muscle mass and a 30% decrease in body fat. Patients see full results within three months of the treatments. As with any body-shaping treatment, results will vary.*
Specific Emsculpt NEO cost will vary per patient. Each body shaping treatment is customized to fit the patient's aesthetic goals, body shape and size, and circumstances. During a complimentary consultation with Reston Dermatology + Cosmetic Center, you can discuss prices and financing options.
We offer several financing options including Credit Card, PatientFi, AFFIRM, and CareCredit. You can learn more here.
WHY CHOOSE RESTON DERMATOLOGY + COSMETIC CENTER
Emsculpt NEO is a technique-sensitive procedure. Any patient hoping to achieve the best fat reduction and muscle-building results should select the most reputable, professional provider.
Reston Dermatology + Cosmetic Center is a leading Emsculpt NEO provider in the Reston area. We have a trained, professional staff who helps each patient achieve phenomenal treatment results. When you select our establishment for your body shaping needs, you will experience a comfortable treatment in a luxury setting.
If you are ready to begin your journey towards a leaner, more sculpted physique, contact Reston Dermatology + Cosmetic Center. Call us at 703-775-2190 to schedule your free consultation or reach out to us online.
Schedule a Consultation for EmSculpt NEO Today!
If you are considering EmSculpt NEO, please call our office today to schedule a comprehensive consultation with one of our highly skilled and talented providers.