Get Cheeky with Restylane Contour
The cheeks are a cornerstone of facial architecture. But sometimes they need a little boost. Restylane Contour can replace lost volume or augment the cheeks to give you perfectly plump, apple cheeks.
Restylane Contour
What is this new filler that everyone is talking about? Restylane Contour is a hyaluronic acid filler that lasts for at least 12 months. It is designed to augment the cheeks and restore facial volume, as well as enhancing your cheek profile to give you the plump, shapely cheeks you want.
Restylane Contour is the first and ONLY filler in the United States for the cheek area that is formulated with XpresHAn Technology. This technology creates a smooth, injectable gel that integrates into the skin to produce a more dynamic, natural expression in motion that moves as you move. This gives you the most natural looking results. Furthermore, studies have shown that patients treated with Restylane Contour actually required less filler to achieve their optimal results.
This product has been used in Europe for several years under the name Restylane Volyme and over 1.5 million patients have been treated worldwide.
Designed for the Cheeks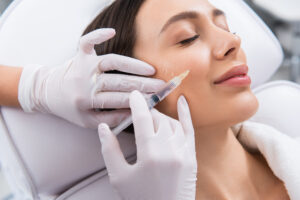 With age, our face naturally loses shape and volume. This is particularly noticeable in the midface, which shows the first signs of aging. Now that we have a better understanding of the aging process of the face, rejuvenation techniques have shifted focus.
Now, instead of just adding volume, rejuvenation efforts focus on contouring and shaping the face to create a natural contour that enhances and restores your natural beauty while retaining your full range of facial expressions.
The Results Speak Volumes
Individual results may vary but 98% of Restylane Contour patients were pleased with their results at 1 year. The most common side effects for cheek injection include bruising, swelling, pain, tenderness, and itching. However, over 85% of patients did not experience any adverse events related to treatment.
Restylane Contour Near Me
Are you ready to restore lost volume and rejuvenate your face? If your cheeks need a boost, Restylane Contour might be the perfect fit for you. Contact Reston Dermatology and Cosmetic Center today to learn more about this cheeky new filler!