Liposuction Cost vs. Non-Invasive Body Contouring
There are many differences between liposuction and other non-invasive body contouring procedures. Both options are targeted at reducing fat cells in your body, in areas that have been resistant to diet and exercise plans. While the procedures and outcomes may vary, so does expense. Here's how liposuction cost compares to non-invasive body contouring.
What's the Difference?
Liposuction is a surgical procedure that permanently removes fat cells from the body. Although liposuction is highly effective in many parts of the body, including the face and neck, arms and legs, and abdomen, it is not right for everyone. Additionally, while liposuction can provide dramatic results, it also requires a longer recovery than non-invasive body contouring options. 
Body Contouring procedures are designed to shape and contour the body through the destruction of fat cells in the body. Body contouring results are best when candidates are at or near their goal body weight. The results of body contouring may take multiple treatments and the results will be seen over the following weeks or months. Because the procedures are non-invasive, there is generally no recovery time needed.
Non-Invasive Body Contouring Options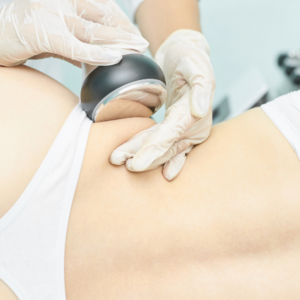 There are many non-invasive body contouring options available. At Reston Dermatology, we offer two great options that may help you get rid of some stubborn body fat. 
CoolSculpting is a method that uses cryolipolysis to precisely remove fat using controlled cooling. CoolSculpting is a great option for targeting small, localized trouble spots that can be hard to fine-tune with diet and exercise. 
Emsculpt Neo is a body contouring procedure that destroys fat cells by inducing thousands of muscle contractions in the targeted area. With the frequent muscle contractions, the body will create muscle cells, as the fat cells are destroyed. Emsculpt Neo is particularly successful in toning muscles in the arms, legs, abdomen, and buttocks. 
Comparing Liposuction Cost vs. Non-Invasive Body Contouring
The cost of non-invasive body contouring will depend on your preferred method and the treated area. CoolSculpting costs average between $2,000 and $4,000 per treatment area. 
Emsulpt Neo can cost between $700 and $1000 per treatment. Muscle development is a process, so in most cases, multiple appropriately spaced treatments are needed to achieve the desired results. 
The cost of liposuction will depend on the area of the body being treated, the complexity of the procedure, and where you are located. Typically, liposuction costs usually vary from $3,500 to $10,000. 
Take the Next Step to Contour Your Body
If you are considering contouring your body through non-invasive surgery, contact Reston Dermatology + Cosmetic Center to learn more about shaping your body with fast, comfortable, and effective body contouring treatments.