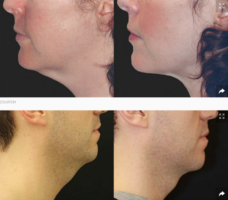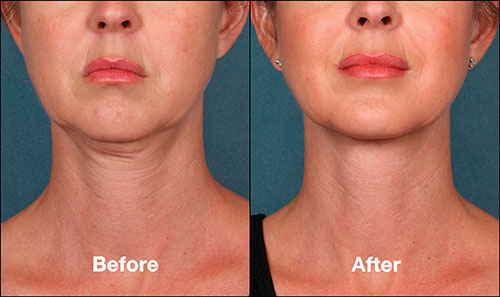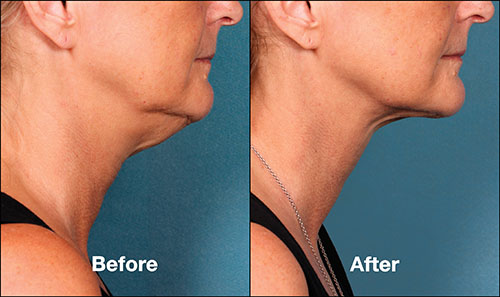 Procedure Details
Treatment Details
Before and Afters
Testimonials
Procedure Details
Face + Body Contouring
Fat Dissolving Injections
Kybella is an FDA-approved cosmetic injectable designed to dissolve localized fat pockets and eliminate a double chin. It can also be used to dissolve fat in other areas, like the buccal fat in your cheeks, jowls, bra fat, and knee fat.
Comprised of a synthetic form of deoxycholic acid, naturally found in the body for the purpose of fat digestion, Kybella is administered as series of injections in the area, causing fat cells to burst and die. This action is known as lipolysis.
In the coming weeks, destroyed fat cells are gradually cleared from the body via the lymphatic system to reveal a less full area and more definition, reduced jowls, or a slimmer face.
Patients typically need a series of Kybella injections to achieve optimal outcomes.
When contouring facial features, Kybella can be used in conjunction with dermal fillers. By reducing the fat in jowls or cheeks, then adding filler to create a "snatched jawline" or to subtly lift cheeks to reduce heaviness in the nasolabial folds (lines from nose corners to lips), an expert injector can work with you to achieve the results you desire.
Body Contouring
EmSculpt NEO
EmSculpt Neo takes the technique and results of EmSculpt and raises the bar even further by combining muscle building, fat reduction, and skin tightening. EmSculpt Neo is the only non-invasive body shaping treatment that combines two energies to eliminate fat and build muscles in each 30-minute session.
CoolSculpting
CoolSculpting is a noninvasive fat removal treatment that uses controlled cooling to selectively target and destroy stubborn bulges. It's an excellent nonsurgical alternative for localized fat pockets that been resistant to diet and exercise.
CoolSculpting is a breakthrough, non-invasive procedure that uses patented cooling technology to eliminate fat without surgery.
This clinically proven technique is designed to selectively reduce the fat in problem areas that has proven resistant to reduction through diet and exercise. CoolSculpting gently cools targeted cells in the body to induce a natural, controlled elimination of these unwanted fat cells.
Combination Treatments for the Best Results
Often we will do a combination of therapies, such as debulking an area with Coolsculpting, followed by muscle and core strength improvement with Emsculpt Neo. Or we will debulk a double chin, for example, then follow up with with Kybella injections for fine tuning and more definition. This allows patients to the the best possible results from their body contouring treatments.
Treatment Details
Kybella is an injectable treatment approved by the FDA to address submental fullness, otherwise known as a double chin. It can also be used off-label to reduce excess fat in the arms, love handles, knees, and bra line.

CoolSculpting has the ability to eliminate up to 24% of fat cells in the treated area.

Women and men can expect to see visible slimming and sculpting effects within 4-6 weeks.

Results will continue to improve and usually peak by 12 weeks.
Treatment Cost
Treatment cost varies by area and desired outcome, but treatment start at $1200. Come in for a free consultation to get a treatment quote.
Testimonials
Dr. Amiry has exceeded my expectations in every way. He and his staff have been gentle and caring, very patiently explaining the procedures and expectations to me. The improvement I have had in my appearance is more that I had hoped for. I am excited to take my kids to the pool next summer now and hold my head a little higher when meeting new people. It's a wonderful feeling to have pampered myself in this way and I have gained so much self-confidence. Thank you to Dr. Amiry and staff for helping me find that again.
After 6 visits to your office, I can honestly say that EVERY visit was PERFECT! Nothing can be improved! I give your office a "10" and that never happens with me! Thank you!!!