Ultimate Guide to Juvéderm in Northern Virginia
by
Reston Derm
in Juvederm
June 12, 2021
Fillers are all the rage right now, but there is still some confusion about the different brands and what they can do. This guide will tell you everything you should know about Juvéderm in Northern Virginia.
Juvéderm: What is it?
Juvéderm is an injectable hyaluronic acid filler. There are many types, including Ultra, Ultra Plus, Vollure, Volbella, and Voluma. These different types vary in thickness and elasticity. Thinner products are used to add hydration to the skin without changing volume or structure (in areas like under-eyes and lips). Thicker products are used to create definition in the jawline and cheeks while bouncier products can add volume to the cheeks and lips.
Hyaluronic acid occurs naturally in the body and therefore, it is metabolized by the body over time. Results typically last 6-18 months but this depends on the product and treatment area.
Uses of Juvéderm
Hyaluronic acid fillers have a variety of uses. Including:
Minimizing smile lines
Minimizing hollow areas under the eye
Recreating structure and fullness in the lips
Restoring or creating fullness in the cheeks
Recreating or building definition in the jawline and cheekbones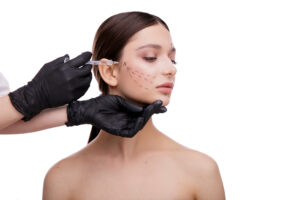 Benefits of Juvéderm in Northern Virginia
Juvéderm injections are relatively quick, around 30-60 minutes. The procedure is also minimally invasive and requires little to no downtime. Results are instant and long-lasting, but not permanent. This gives patients more flexibility and less commitment to a certain aesthetic.
The biggest benefit of hyaluronic acid fillers is that they are dissolvable. Results can be reversed at any time if the patient desires.
One of the biggest misconceptions is that one syringe of filler can create a drastic change in appearance. On the contrary, one syringe is a relatively small amount. Small changes are easily achieved with filler, but larger amounts can be used for a full-face transformation.
Before Your Appointment
Before you receive any kind of treatment, you need to have a consultation. Discuss your concerns with the provider and choose a treatment plan that will achieve your desired results. After reviewing any potential side effects, your provider will explain how you should prepare for your appointment.
Generally, you should discontinue use of the following items one week before your appointment.
Ibuprofen
Aspirin
Garlic
Gingko Biloba
Ginseng
Ginger
Fish-oil/Omega 3 Fatty Acids
Vitamin E
The day before your appointment you should not consume alcohol or engage in strenuous activity. These precautions help minimize your chances of bruising and make your appointment more efficient. On the day of your appointment, its is best to show up with a clean, make-up free face.
During Your Appointment
When you arrive, a topical numbing cream will be applied for your comfort. After the cream is removed, the area will be cleansed, and treatment can begin. Depending on the area, treatment takes between 15-30 minutes. Your treatment may be performed with a needle or a cannula, depending on your desired results and your physician's preference.
Aftercare
For the first 24 hours after your treatment, you should avoid exercise. Also avoid ibuprofen for 24-48 hours after. Results are visible immediately, but the product will settle over the first few weeks. Lips do tend to swell for the first 48 hours, but ice can be applied several times throughout the day to help. Icing can also help any bruising that may occur.
Juvéderm in Northern Virginia
Dermal filler has drastically changed the anti-aging game. Now, you can have smaller, more accessible treatments earlier in life. There are many types of fillers, but your provider can help you choose the best one based on your desired results. Contact Reston Dermatology today to learn more.