Silhouette Thread Lift | The Non-Surgical Face Lift
If you look in the mirror and see sagging, loose skin, you've probably wondered what you can do about it. Sure, face lifts are great but they're not feasible for everyone. What if I told you there is an alternative? Silhouette thread lift is the answer. Here's what you need to know.
What is Silhouette Thread Lift?
Silhouette Thread Lift is an FDA cleared, non-surgical, in office procedure. It lifts and repositions sagging skin in the neck, jawline, mid-face, and brows. This treatment provides immediate and long-lasting results. There is minimal downtime and risks. All you need is one hour for your appointment, and you will leave with a lifted, more youthful appearance.
The Procedure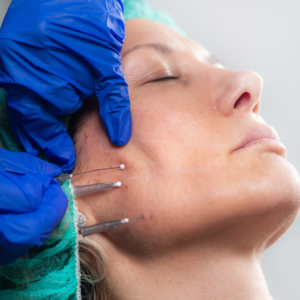 Your procedure will be tailored to your needs. Typically, 2-4 thread lift sutures are placed underneath the surface of the skin on each side of the face. this creates an instant lifting effect. The threads are placed under the skin, in the fat layer. The cones lock the suture in place and effectively lifts and holds the skin in place. While the tightening effect can be seen instantly, it continues to improve over the next 3-6 months.
How Silhouette Thread Lift Works
This procedure focuses on lifting the skin and stimulating collagen development. These unique threads are made from Polyglycolide/L-lactide which has a long history of use in the medical field. Contrary to other threads that use knots or are smooth, Silhouette threads have tiny dissolvable knots interspersed with ultra-tiny, dissolvable cones. These are very efficient at gripping the skin and holding it in place, producing a noticeable lift.
Who can get Silhouette Thread Lift?
This procedure is good for anyone who:
Needs a mid-face lift to treat lines around the nose or mouth
Needs a lift to the jawline area
Wants to treat the neck area
Needs to lift the brows and treat hooded eyes
Needs a lift to treat sagging skin instead of just a fill to replace volume
Prefers a non-surgical approach
Needs an option with minimal downtime
Is Silhouette Thread Lift Right for Me?
If you are looking for a face lift procedure that doesn't require surgery and extensive downtime, Silhouette thread lift might be the answer. Furthermore, it can be combined with other treatments like lasers or injectables to provide a more comprehensive solution. Contact Reston Dermatology and Cosmetic Center today to learn more.