Benefits of QWO Cellulite Treatment
Update: QWO is no longer available for purchase, however we have many other treatments for cellulite.
QWO cellulite treatment is making huge waves in the cosmetic world. This is the first and only FDA-approved injectable for moderate to severe cellulite treatment in the buttocks area.
What Causes Cellulite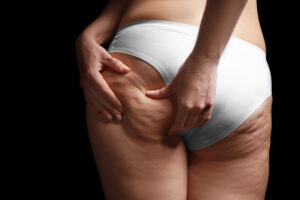 There are many factors that lead to cellulite. In fact, 90% of women deal with cellulite. Essentially, cellulite is caused when skin become thinner, fat cells enlarge, and fibrous bands under the skin thicken and cause tension. This creates the signature dimpling on the buttocks.
Cellulite isn't fat, and it isn't caused by what you eat or how often you exercise. So, while its great to eat a balanced diet and live a healthy lifestyle, that does very little to reduce the appearance of cellulite.
QWO Cellulite Treatment
QWO is a prescription medication cellulite treatment. The enzymes in QWO, called collagenases, are thought to target the structural cause of cellulite under the skin. QWO works to release the fibrous bands, redistribute fat cells, and stimulate the production of collagen. This improves the appearance of cellulite.
After your consultation your aesthetic specialist will discuss your treatment plan and expectations. Then, a small needle is used to inject QWO into the targeted dimples in the buttocks treatment area. Each treatment may include up to two treatment areas and injections are given 21 days apart for 3 treatment visits. Injections take 10 minutes or less. There is no downtime required after QWO cellulite treatment. Patients can expect to see visible results in around 10 weeks.
[Related: Diastasis Recti Treatment]
Common Side Effects
The most common side effects of QWO cellulite treatment are bruising at the injection site, pain, itching, redness, swelling, areas of hardness, discoloration, and warmth in the treatment area. QWO has been studied in more patients than any other FDA-approved cellulite treatment.
QWO Cellulite Treatment Near Me
If you are one of the many women who struggle with cellulite, QWO may be right for you. To learn more about this new cellulite treatment, contact Reston Dermatology and Cosmetic Center.