EmSculpt NEO for Butts, Arms, Thighs and Calves
A balanced diet and active lifestyle are good ways to maintain a healthy weight. However, many people struggle with stubborn fat that just won't go away. EmSculpt NEO is transforming butts, arms, thighs, and calves. Here's what you need to know about this revolutionary new treatment.
What is EmSculpt NEO?
EmSculpt NEO is a new body contouring treatment that can build muscle and destroy fat at the same time. Clinical trials have proven that Emsculpt NEO is efficient and safe. Using a combination of radio frequency and high intensity focused electromagnetic energy, NEO melts away fat while stimulating thousands of muscle contractions. These contractions sculpt the body and improves strength and muscle tone while the heat focuses on blasting away stubborn fat.
A Session of EmSculpt NEO
Like with the original Emsculpt, NEO uses an applicator that is placed on your butt, arms, thighs, or calves and held in place with a comfortable strap. The technician will slowly increase the intensity and the applicator will get warmer while the pulses grow stronger.
Each session is around 30 minutes long and patients are typically seen once a week for four weeks. The best part is there is no downtime required. You can resume your normal daily activities immediately after your session.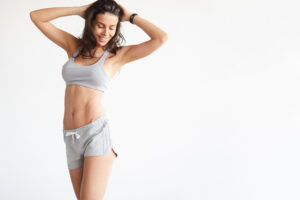 Butts, Arms, Thighs and Calves
EmSculpt NEO is used for noninvasive lipolysis (the breakdown of fat cells) in the abdomen, butts, arms, thighs, and calves.
NEO can reduce the circumference of the abdomen, improve abdominal tone, strength, and firmness. It is also used to tone, firm, and strengthen butts, arms, thighs, and calves.
How NEO is Different
Emsculpt NEO is much different than the original device. Since NEO uses two types of technology, it is essentially two treatments in one. You get better results in less time. With the original Emsculpt, patients experienced a fat reduction of 19% on average. With NEO, that number jumps to 30%. It's a big difference.
The fat reduction isn't the only thing that increases with NEO. Muscle growth has also increased from around 16% to 25% on average. Furthermore, while the original device was intended for patients with a BMI of 30 or less, NEO can treat people with a BMI of up to 35.
Safety of EmSculpt NEO
EmSculpt NEO is considered very safe but it is not recommended for pregnant women, people with a pacemaker or implanted electronic device near the treatment area. You should avoid NEO is you have any type of metal (including copper IUDs) near the treatment sight. Otherwise, EmSculpt NEO is a great option for anyone looking to shed fat and tone their muscles.
EmSculpt NEO for Butts, Arms, Thighs and Calves
EmSculpt is the perfect way to get drastic results without the pain and risk of surgery. If you are ready to banish fat while you strengthen and tone muscles in your butt, arms, thighs, or calves, try EmSculpt NEO. Contact Reston Dermatology to learn more!