Benefits of a HydraFacial This Fall
HydraFacial is one of the most powerful non-invasive skin resurfacing treatments on the market. It uses a unique combination of cleansing, extraction, exfoliation, hydration, and antioxidant protection to remove dead skin cells and impurities. Furthermore, it simultaneously moisturizes the skin to give you instantly noticeable results. Here's why you need a HydraFacial this fall.
What HydraFacial Does
While microdermabrasion uses aluminum oxide crystals to blast the surface of the skin, this treatment uses a gentler approach. During the treatment, a wand vacuums pores to clear impurities. It also infuses your skin with moisturizing serums. Unlike microdermabrasion, it does not hurt. Instead, it is a soothing, and refreshing facial. Using it's patented technology, the wand creates a vortex effect that easily dislodges and removes impurities painlessly.
HydraFacial improves the appearance of:
Enlarged and clogged pores
Oily, acne-prone skin
Blackheads
Dry skin
Age spots and sun damage
Uneven skin tone
Fine lines and wrinkles
HydraFacial is Safe for ALL Skin Types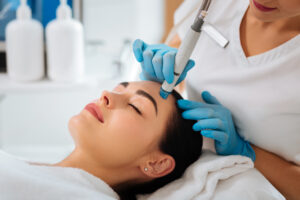 Most importantly, it is suitable for all skin types. Including oily and acne prone to dry and flaky, or a combination. No matter what skin type you have, you will benefit from the treatment. Even individuals with sensitive skin can safely enjoy the treatment.
Gentle Exfoliation
Despite the exfoliation and extraction involved in the  process, the treatment is painless and non-irritating. Because it delivers hydrating serum simultaneously, patients are left with healthy, radiant, smooth, and glowing skin.
HydraFacial is Fully Customizable
This treatment is easily tailored to your unique skin needs and aesthetic goals. Do you want to remove fine lines and wrinkles while brightening the skin? Skin boosters like BrightAlive Boost or the Growth Factor Boost can be added. Furthermore, the suction of the vacuum is adjustable to ensure that it is comfort and gentle even in delicate areas like around the eyes.
Additionally, it can be used in conjunction with other treatments. So, if you want injectables or a non-ablative laser treatment, talk to your esthetician about pairing it with your HydraFacial.
No Downtime
From start to finish your treatment will take around 30 minutes. Additionally, there is no downtime required. You can see an improvement in skin texture and tone immediately. Unlike with some other treatments, you can put makeup on and resume normal activities immediately after your treatment.
HydraFacial Consultation Near Me
As with any cosmetic treatment, you should also choose a talented, licensed, board-certified provider for your treatments. If you are ready to learn more about the benefits of HydraFacial, contact Reston Dermatology and Cosmetic Center today.