New Radiofrequency Microneedling
Radiofrequency microneedling, also know as RF microneedling, is a cosmetic procedure that can rejuvenate facial skin. It can improve the appearance of wrinkles, scars, and other skin issues.
Radiofrequency Microneedling
This treatment is a form of controlled skin injury. It creates damage in order to stimulate the growth of healthy new skin. This procedure uses fine needles to create microwounds in the skin. In turn, this triggers the production of capillaries, collagen, and elastin. The radiofrequency is released in the microwounds to cause additional damage which enhances the effects.
RF Microneedling Uses
This procedure uses the body's natural healing processes to create firmer, thicker, smoother skin. This can be used to treat: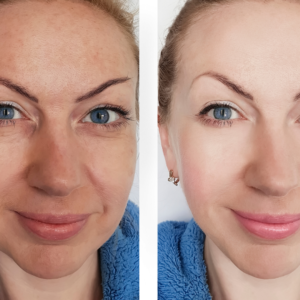 Hyperhidrosis
Fine lines
Wrinkles
Stretch marks
Loose, sagging skin
Large pores
Hyperpigmentation
Acne scars or scars from injury
Radiofrequency microneedling can also be combined with PRP to maximize the results of your treatment.
Good Candidates for RF Microneedling
This treatment is considered safe, but it isn't right for everyone. You should avoid this treatment if you:
Have a history of keloids, hypertrophic scarring, or poor wound healing
Have an active cold sore breakout
Are taking anticoagulants
Are pregnant
Have a skin infection
Are receiving chemotherapy or radiation therapy
Have a moderate to severe skin disease
The Procedure
During your consultation, the provider will ask questions about your medical history and expectations. They will likely take photos of your face to determine the best technique. On the day of your procedure, the healthcare provider will clean the skin and apply a topical anesthetic to the treatment area.
The device makes tiny wounds in the skin and releases radiofrequency waves into the wounds. This takes between 10-20 minutes. After the treatment, the provider will apply a growth solution to support cell regeneration. Lastly, they will apply a soothing solution to minimize any discomfort. After treatment you can resume normal activities.
Does It Work?
According to the research, radiofrequency microneedling is effective for a variety of skin conditions. Most people see results in 3-6 months, but the exact time frame will depend on your condition. In one study, 58% of people saw an improvement in acne scars.
Other studies show that RF microneedling is effective for reducing wrinkles around the eyes, reducing loose facial skin and improving skin texture and pore size.
Furthermore, studies have show that this procedure can permanently treat hyperhidrosis by reducing the number and size of sweat glands.
Radiofrequency Microneedling Near Me
This treatment is a great way to rejuvenate the skin and target acne scars or early signs of aging. There's no downtime and the procedure is quick, making it a great option for busy schedules. If you would like to learn more, contact Reston Dermatology and Cosmetic Center.