PRP with SkinPen
PRP with SkinPen is a revolutionary new way to fight the signs of aging and reveal your true skin. If you struggle with acne scars, wrinkles, large pores, or uneven skin texture, this is the answer. Say goodbye to blemishes with the help of SkinPen.
What is SkinPen?
SkinPen is a medical grade, state of the art microneedling device. It stimulates skin repair using your body's natural remodeling process. SkinPen microneedling allows for a precise induction of the skin's self-repair process. This triggers collagen production and elastin synthesis. This creates healthier looking skin, improves the look of acne scars, and reduces the appearance of fine lines and wrinkles.
PRP with SkinPen
SkinPen utilizes platelet rich plasma to repair damaged tissue in your skin and rejuvenate your face. This allows you to look your very best. This treatment involves extracting the platelet rich plasma from a small sample of your blood. The PRP is applied to problem areas using the SkinPen. The SkinPen uses a micro-needling process that creates tiny injuries in the skin. As the skin heals it becomes better-looking, youthful, and smooth.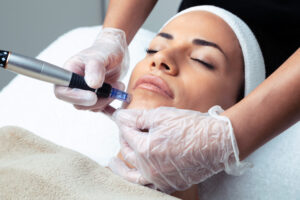 Treatment
SkinPen is the world's first FDA cleared microneedling device. It can be used to stimulate skin repair and effectively fight wrinkles, fine lines, acne scars and more. It is perfect for all skin types and only takes around 30 minutes. The device has individualized settings for maximum patient comfort. Furthermore, since it uses your own blood, it is a completely natural remodeling process.
Results
This procedure results in new collagen and elastin to maintain a beautiful appearance with no scar tissue. The procedure is quick and there is little to no downtime, making it a great option for those with busy schedules.  SkinPen is effective on all body parts and offers long-lasting results.
PRP with SkinPen
SkinPen is a natural, effective way to get better, more beautiful skin and fight the signs of aging. It is perfect for all skin types and best of all, its quick and requires little to no downtime. To learn more about what PRP with SkinPen can do for you, contact Reston Dermatology to schedule a consultation!