Morpheus8 New Skin Tightening Treatment
If you want tighter skin without the risk and pain of surgery, Morpheus8, a new skin tightening treatment, might be right for you. Morpheus8 works amazingly well to eliminate wrinkles, lines, and puffiness to give you a firm, youthful appearance.
Morpheus8
This device uses a combination of radiofrequency technology and non-invasive micro-needling to banish saggy skin on the face, back, knees and abdomen. Treatment is quick, painless, and typically results in a significant difference after only one treatment.
How Morpheus8 Works
This new skin tightening treatment uses tiny needles to make small, nearly imperceptible punctures in the skin. These wounds immediately create elastin and collagen in response. These are what keep your skin firm and tight. Since the needles are so small, treatment is painless. It is even safe to use around the eyes.
Aside from skin tightening, Morpheus8 is also used to improve the appearance of acne scars, improve pigmentation problems, scarring, dark circles under the eyes, stretch marks and much more.
The Treatment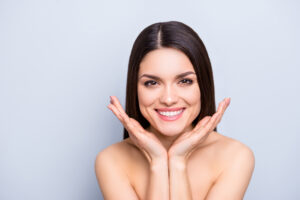 First, you need a consultation to determine if you are a good candidate for Morpheus8 skin tightening treatment. While it is safe for most people, it is not recommended for people who are pregnant or breastfeeding, or people with certain medical conditions.
During your consultation, the provider will examine your skin and discuss your concerns as well as your treatment plan. On the day of the treatment, the provider will apply a topical treatment to the areas of the body you will receive treatment on. This may be mildly uncomfortable, but it must sit on the skin for 30 minutes before the treatment can begin.
Once the treatment begins, the technician will use a handheld gun-looking device to rub onto the affect area. Treatment is quick and when you are finished, the technician will discuss after-care with you.
Side Effects of Morpheus8 Skin Tightening Treatment
Only qualified clinics are allowed to provide Morpheus8 treatment to ensure that the treatment is safe and effective. Side effects do not occur in everyone, but patients may experience redness and irritation, along with scabbing. However, these usually resolve within a few days.
Precautions
If you have recently received Botox, you should wait 1-2 weeks before having Morpheus8 treatment. Be sure to inform your provider that you have recently had Botox. Morpheus8 is not right for everyone. It is not recommended for individuals who have:
Irritation or open wounds in the treatment area, including eczema, psoriasis, serious redness or swelling
An electronic device implanted anywhere in their body (such as pacemakers or glucose meters)
Permanent device implanted near the treatment area (such as metal screws or plates)
A condition stimulated by heat, such as herpes simplex, in the treatment area
Morpheus8 Skin Tightening Treatment Near Me
Morpheus8's radiofrequency and micro-needling combination is extremely effective. If you are unhappy with the appearance of your skin, Morpheus8 may be able to help. Contact Reston Dermatology and Cosmetic Center today to schedule a consultation.