How Much Does CoolSculpting Cost?
Sometimes, gym time isn't enough to get rid of stubborn fat. CoolSculpting can help though.
Many people are turning to this revolutionary body contouring treatment. Let's look at how it works and how much CoolSculpting will cost.
CoolSculpting
This is a fat reduction treatment that is FDA approved. It uses controlled cooling to target and eliminate fat. This leaves you with a slimmer, more toned appearance. The results are proven, and long lasting.
CoolSculpting uses a precisely controlled cooling process to gently, effectively target the fat cells underneath the skin. The targeted cells are frozen and die. Then, they are naturally eliminated from the body, leaving you slim and sculpted.
What to Expect
First, you need a consultation. During a consultation, the provider will hear your concerns and examine you. Your provider will take measurements and mark your skin to determine which applicator best suits your needs.
You will discuss how many treatments are recommended to reach your goals. This is a good time to ask about package deals. CoolSculpting is not right for everyone. Your provider will ensure that you are a good candidate.
During your treatment, you will feel pressure and intense cold, which may feel like small cramps or pinching. This feeling dissipates quickly, and most people read, work on their laptop, or nap during their treatment. Treatment lasts between 35-75 minutes based on the treatment area. There is no downtime so you can return to work after your treatment.
After CoolSculpting
After your CoolSculpting session, you may experience deep pulling, tugging, pinching, or discomfort. Typical side effects include temporary numbness, redness, swelling, bruising, tingling, firmness and pain. This usually does not interfere with daily activity.
In the weeks and months following your procedure, your body will naturally eliminate the dead fat cells. Once these cells are gone, they never come back. You may see results as quickly as three weeks after your treatment, but the most drastic results will occur after two months.
Cost of CoolSculpting
The question everyone has is "How much does it cost?". Well, that depend on several factors. Prices vary depending on your area of concern, the number of sessions needed, and your end goals. On average, $2,000-$4,000. Each time the applicator is placed on your body (in the desired treatment area) that is considered a treatment. One treatment costs between $750-$1,000 retail. This does not include any discounts you might get for package deals or other promotions.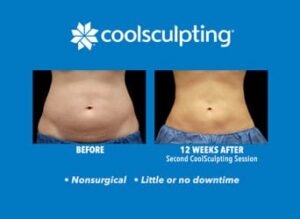 For example, if you want to target belly fat, most people need 4 treatment areas. You may choose to undergo more treatments to achieve optimal results. So, you would need 8-12 treatment areas. However, if you carry your weight differently, say in the lower belly, you may need 6-8 areas per treatment. On the other hand, if you only have a small pouch you may only need 2. So, you can begin to see that the cost of your CoolSculpting will be entirely unique to you, and your goals.
Package Deals
In the cosmetic industry, the more you do, the more you save. Many practitioners follow CoolSculpting guidelines and price break. If you buy a treatment, you will likely pay retail prices but if you are going to do four treatmentss on your stomach and then repeat the treatment, you enter the CoolSculpting "Love It" package.
This means your cost will be discounted. Maybe you want to treat more than one area of the body? Package them together for even greater discounts. Signing up for the Brilliant Distinctions rewards program will also earn you further discounts.
Cost of CoolSculpting in Reston
People come in all different sizes, shapes, and fat distributions.
The best way to get an accurate cost estimate is to schedule a consultation. Contact Reston Dermatology today to learn more!