How Much Does Botox Cost?
by
Reston Derm
in Botox
January 27, 2021
If you have wrinkles or fine lines, chances are you have considered Botox and wondered about the cost. Botox has become extremely popular.
It is a great way to refresh your look, boost your confidence, and defy aging. But it's not as expensive as you might think.
Botox
Botox is a neurotoxin that is used in cosmetic procedures. It treats the signs of aging by temporarily paralyzing facial muscles.
Some of the most common Botox treatments include Brow Lift ($450-$600), Jaw Slimming ($800-$1200), Neck Lift ($850-$950), and Chin Dimpling ($250-$350). Botox is also used in the treatment of many medical conditions like chronic migraine.
Cost of Botox
Pricing for Botox will depend on the treatment you choose, how much Botox is required, and other factors. After your initial treatment, maintenance treatments will likely be cheaper.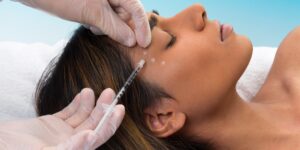 Units Per Treatment
The units of Botox you need will depend on the treatment you select. For frown lines, you may need 18-24 units.
Forehead Botox may require up to 20 units. Furthermore, the price per vial, or for entire treatment will also depend on the style of your injector. Some practices may charge a fee per unit while others charge a fee per treatment instead.
Determining Cost
The two main factors of cost are which product is being used, and who is injecting it. Different products cost different amounts of money. Likewise, injectors may also charge different fees. A skilled, sought-after injector may charge a higher fee.
You are essentially paying a premium for that treatment, but since your treatment results will depend on the skill and aesthetic of your injector, it is worth it.
Botox Near Me
Botox and facial fillers are some of the most popular injectable treatments. If you are interested in Botox treatment, please contact Reston Dermatology today to schedule a consultation!