Botox Dermatologist in Northern Virginia
by
Reston Derm
in Botox
July 5, 2021
These days Botox seems to be offered everywhere. From medical spas to OBGYN offices, this widely popular cosmetic treatment is available almost anywhere. However, it is important to choose a licensed, experienced provider. Here's why you should choose a Botox dermatologist in Northern Virginia.
Botox
This prescription drug is used to paralyze muscles and prevent and treat wrinkles and fine lines. Additionally, Botox can be used in several other ways such as treating chronic migraines, excessive sweating, overactive bladder, neck spasms, crossed eyes, jaw pain, back pain and more.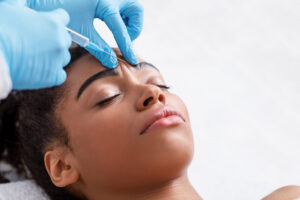 Board-Certified
When you choose a Botox dermatologist, you are choosing a skincare specialist able to diagnose other skin issues that may impact your treatment. Dermatologists have years of medical training and experience with a wide variety of skin and health conditions. Choosing a board-certified Botox dermatologist in Northern Virginia means you will receive a well-rounded, effective, and unique approach tailored to needs of your skin.
Comprehensive Skin Care
In addition to treatments, dermatologists can diagnose skin conditions, do full body skin exams and cancer screenings, perform surgical dermatology and much more. If you want a comprehensive skin care approach, this is the way to go.
Safety of Botox Dermatologist
While Botox injections are considered safe, they should always be performed by a trained, licensed provider. Dermatologists have an advanced medical training that is necessary to give you the healthiest outcome. This training gives them a better chance of avoiding risks and allows them to quickly respond to any complications.
Medical Grade Products
Your Botox dermatologist office will use high quality, medical grade skincare products. These can only be offered by a doctor and because they are medical grade, they are highly effective.
Botox Dermatologist Northern Virginia
If you have been considering Botox treatments, choosing an experienced Botox dermatologist in Northern Virginia is a safe bet. Contact Reston Dermatology to learn more.