Best Wedding Ready Tips for Men and Women
Your wedding day is supposed to be one of the happiest days of your life. Make sure you look your best with these wedding ready tips for men and women.
Visit Your Dermatologist
A year out from the wedding, you should visit your dermatologist. The provider will assess your skin and walk you through a strategy for achieving your skin care goals. Whether its acne scars, hyperpigmentation, wrinkles or redness, there are treatments to help. Its important to start this plan well ahead of the wedding so you have ample time for treatment.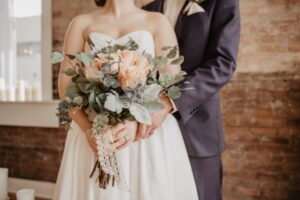 Up Your Skincare Routine
Take your skincare routine to the next level with these great products.
Retinol increases cell turnover, boost collagen, diminishes hyperpigmentation and unclogs pores. Retinol is available over the counter, or you can get a prescription from your dermatologist.
Exfoliate to clear dead skin cells and clear a dull complexion.
Skin brightening products can give you a radiant glow for your wedding day.
Facials
To keep your skin looking and feeling healthy, consider regular facials. Facials are customizable and can address a wide variety of skin care concerns. Regular treatments area a good way to keep your skin clean, hydrated, and glowing.
Stress Management
One of the top things you can do to keep your skin looking happy and healthy for your wedding day is to manage your stress levels. Easier said than done right? Wedding planning can be stressful. Unfortunately, stress can cause many skin conditions to flare and worsen.
Body Contouring
If you want to look your best on your wedding day but have a few stubborn pounds that just wont budge, you should try body contouring. CoolSculpting and EmSculpt are both popular body contouring treatments that can help you eliminate unwanted fat. EmSculpt also builds muscle and tightens skin.
Wedding Ready Tips for Men and Women
When it comes to getting wedding ready, its important to start early. Time is of the essence when it comes to pre-wedding cosmetic treatments. These wedding ready tips for men and women are sure to help you look your best on your special day. Contact Reston Dermatology to learn more.