Best Summer Cosmetic Tips for Glowing Skin
We all want that gorgeous summer glow, but you don't have to damage your skin to get it. Enjoy your fun in the sun and protect your skin with the best summer cosmetic tips to make you glow.
Sun Exposure and Aging
The biggest cause of aging skin and premature wrinkles is sun exposure and damage. It is much easier to prevent damage than it is to reverse it. However, a good daily routine can protect your skin and help you maintain your glow. This is even more important in summer when we spend more time outdoors so here are the best summer cosmetic tips to get a beautiful glow while protecting your skin.
Body Contouring in Advance of the Beach
Need a quick boost to your weight loss routine? Come in to learn more about CoolSculpting for tough-to-loose areas of fat. We also offer EmSculpt to tone your abs or enhance your buttocks. We can even combine different treatments to lose, tone and help you feel confident in beachwear.
Glowing Summer Skin
Experts will always emphasize the importance of hydration and sunscreen to prevent sun damage and prevent wrinkles. This slows down the aging process helps you maintain healthy, radiant skin. So, what should a good summer skincare routine include?
Hydration
And not just with serums, creams, and masks (although these are great and important). Drinking adequate amounts of water is crucial to healthy skin. On average, this means 15.5 cups daily for men and 11.5 cups daily for women. If you live in a very hot or dry climate, you probably need more.
Some people can really struggle with this, but another great way to hydrate is by consuming foods with high water content. You can elevate plain water by infusing it with fruits or herbs.  Also, drinks like tea count as well. Coffee on the other hand, can dehydrate you. You should add a cup of water for each cup of coffee you drink.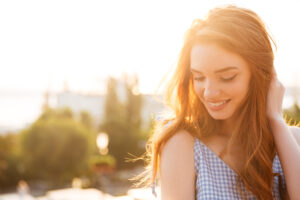 Protect Skin
There are several ways that you can protect skin internally and externally. A diet that includes a variety of antioxidants is important. These are a direct line of defense against free radicals that cause cellular damage.
Dark leafy foods, fatty fish, nuts, berries, and bright veggies are full of antioxidants that will help strengthen your skin. You can also take an antioxidant supplement daily.
Topical products that contain antioxidants are a great way to protect skin from damage. You can find moisturizers, toners, soothing mists, and more that contain antioxidants. These are great additions to your skincare routine.
Mineral Sunscreen
Summer is all about sunshine. But before you head out, apply a layer of mineral sunscreen. This blocks UVA and UV rays and helps prevent damage from sun exposure. Instead of tanning on the beach, opt for a self-tanner to get a beautiful tan without the damage.
After Sun Care
Its important to reapply sunscreen every two hours when you are in the sun. But if you do forget, its important to restore your skins moisture. Avoid using oils, as this can trap heat and make a sun burn worse. Instead, use lightweight lotions or pure aloe vera. Follow up with moisturizing products and plenty of water to drink.
Daily Routine Summer Skincare Tips
Your daily summer skincare routine will depend on your unique needs, but this is a great place to start.
Morning cleanser
Antioxidant toner spritz for hydration and nutrients
Hyaluronic acid serum, lightweight lotion, and oil, (if needed)
Primer or lotion with mineral sunscreen
Evening cleanser with glycolic acid or lactic acid for a gentle exfoliation
Toner, lotion, and oil (if needed)
In addition to these daily products, you can use hydrating and purifying masks once a week and an exfoliating scrub twice a week.
Summer Skincare Issues
Summer can cause a lot of issues with your skincare. Hot, sweaty environments can cause acne flare ups, sun damage can cause dark spots and aging, but Reston Dermatology is here to care for all of your summer skincare issues. Contact us today to schedule a consultation.