7 Reasons to try Emtone in Northern Virginia
by
Reston Derm
in Body Lab
April 5, 2022
Cellulite. Although nearly everyone has it, nobody wants it. Despite gym time, a healthy diet and lifestyle, cellulite can be hard to get rid of. However, Emtone in Northern Virginia can help!
Emtone Northern Virginia
Emtone is a type of body contouring treatment. It tightens your skin and can improve the appearance of cellulite. Using monopolar radiofrequency energy and pressure waves, Emtone tightens skin and reduces cellulite. Additionally, it pairs well with other treatments such as CoolSculpting and EmSculpt. Here are the top reasons why you should try Emtone.
Non-Invasive
Previously, cellulite treatments like liposuction or surgery were the only options. Unlike these operations, Emtone uses radiofrequency and targeted pressure energy to minimize cellulite. It is non-invasive so there is no surgery, no needles, no scars. In fact, most patients say it feels like a hot stone massage.
No Down Time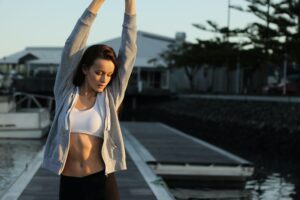 Since it is non-invasive, Emtone in Northern Virginia has no down time. you can return to normal activities immediately after your procedure. No need to take time off work, no wounds to care for, just a simple treatment.
Inclusive
Emtone is safe for all skin tones and skin types. Since it only uses heat and pressure it is safe for all and won't leave your skin discolored.
Cost Conscious
Emtone is more affordable that most other cellulite treatments. Many providers also offer discounts, and some offer payment plans.
Emtone Northern Virginia is FAST
This body sculpting treatment only takes about 20-30 minutes. You can even have treatment done during your lunch break. It's that easy.
No Exercise Involved
Perhaps the best thing about Emtone is that it is great for ALL body types that want to reduce cellulite. Whether you are at the beginning of your weight loss journey or  have lost a lot of weight already, you can benefit from Emtone.
Boosts Confidence
Most importantly, Emtone can help you feel better in your own skin. There are many benefits to losing weight and working on a healthier, happier body. Emtone can help you get there.
Trying Emtone in Northern Virginia
We all want a body that looks and feels good. If you are ready to experience the benefits of Emtone in Northern Virginia, please contact Reston Dermatology today to learn more.