Ultimate Guide to Juvederm Reston
Volume loss is part of aging, but Juvederm in Reston can help combat the sagging skin, wrinkles, and other imperfections. Juvederm Reston treatments can reduce signs of aging and help restore your youthful glow.
Uses of Juvederm  Reston
Juvederm is a dermal filler made from hyaluronic acid. It reduces signs of aging in the lips, cheeks, and around the nose and mouth. Traditionally, Juvederm was a non-surgical alternative for lip augmentation. However, now it is commonly used to smooth out fine lines and replace lost volume in the facial area.
Juvederm for Cheeks
Additionally, Juvederm adds volume to cheeks and restores your youthful appearance. Therefore, it can shape and contour the face, or create the iconic apple cheeks.
Nose Area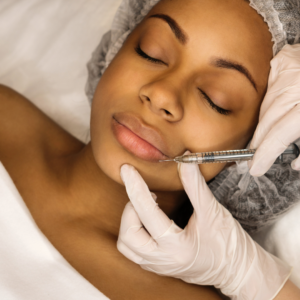 Unfortunately, many people who want to change their nose are hesitant to undergo major surgery. However, Juvederm is a great non-surgical alternative to rhinoplasty. Furthermore, Juvederm injections can alter the nasal appearance quickly. So, this treatment can improve a flat ridge, prominent tip, hump, and nostril size quickly and with minimal downtime.
Juvederm for Lower Face
As we age, the area around the mouth and lips tends to sag, creating unwanted lines and wrinkles. Juvederm can be a very effective treatment for rejuvenating the lower face.
How Juvederm in Reston Works
Juvederm adds volume by stimulating the body's natural hyaluronic acid production. Hyaluronic acid occurs naturally in the body. When combined with water, it creates a gel-like substance that swells up and creates a smoothing effect. Furthermore, hyaluronic acid fillers are chemically modified. This ensures that the filler breaks down slower, giving you longer lasting results.
Types of Juvederm Products
There are many types of products that use different concentrations and bonding to target different areas and issues. These include:
Voluma XC. The first and only FDA approved filler to correct volume loss in the mid-facial region.
Vollure XC. Also FDA approved, this filler targets moderate to sever wrinkles and folds.
Ultra XC. Used to smooth out moderate to severe wrinkles and folds on the face. also approved for lip augmentation.
Volbella XC. Approved by the FDA and used to increase lip fullness and correct perioral lines.
Best Juvederm Reston
Are you ready to experience Juvederm? Contact Reston Dermatology and Cosmetic Center today to schedule your consultation!