Dr. Syed A. Amiry, D.O.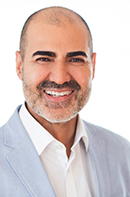 Dr. Syed A. Amiry is a board certified dermatologist who specializes in general dermatology, laser and cosmetic procedures. His private practice serves the Northern Virginia and Washington DC areas. Dr Amiry is affiliated with Reston Hospital in Reston, VA. Dr Amiry received his Bachelor of Science degree, with honors, from Grinnell College in Iowa. He went on to receive his medical degree from the Kirksville College of Osteopathic Medicine in Missouri, and then completed internships at Pontiac Osteopathic Hospital in Michigan, and Saint Mary's Community Hospital in Grand Rapids, Michigan. He became chief resident in dermatology at Pennsylvania's Geisinger Health System, and then completed a fellowship at Dermatology Associates of San Diego County, where he focused on laser treatments, liposculpture and blepharoplasty.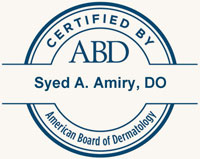 As a board certified dermatologist Dr Amiry is a member of many relevant national organizations including by the American Academy of Dermatology, Dr. Amiry currently practices at Reston Dermatology and Cosmetic Surgery in Virginia, where he specializes in a number of aesthetic procedures, including facial rejuvenation, laser skin tightening and liquid facelifts. He is considered an expert in cosmetic injectables and has taught other medical professionals the skill and art of dermal fillers. Committed to education in the medical field, he has served as a teaching assistant in courses on biology and organic chemistry, and his research on various skin treatments has been published in respected medical journals. He is also committed to giving back to his community, having served as a counselor for children with skin disorders at Camp Horizon.
Professional Experience
2003 – Present
Private Practice, Reston, VA
2002
Murad Medical Group, El Segundo, CA