Laser Treatments Cost Less Than You Think!
Many women have an amazing number of serums, cleansers, moisturizers, toners, and more as part of their anti-aging skincare routine.
But when it comes to laser treatments, many worry that they could not cover the cost.
While it's true that not long ago, laser treatments were reserved for affluent people who didn't even ask about prices. However, times have changed!
Anti-Aging
People are becoming increasingly aware that lasers, fillers, and Botox are actually more cost-effective in the long run. It's true that they cost more upfront, but in the long run it may save you money, especially if you treat a minor skin problem before it becomes a major issue. Even women in their early 20s are lining up for Botox. Why?
Well, many realize that cosmetic treatments are more effective that any creams you could slather on and cost less than all the OTC products you would use over several decades. While quality products will always have a place in our skincare routines, there is more that you can do to preserve your youthful glow.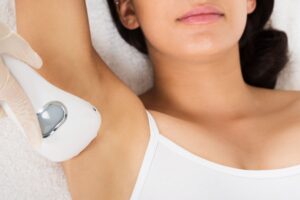 Laser Hair Removal
If the cost of laser hair removal makes you hesitate, consider the cost of waxing, razors, etc. Do you hate the inconvenience of waxing, threading, shaving? What about the red, irritated skin and unsightly, painful ingrown hairs?  Professional hair removal is the answer. While it is more expensive up front, the effects are far superior to other methods because it destroys the actual root of the hair.
Most patients require between 3-5 treatment sessions, and each treatment costs between $500-$700.
Cost Breakdown
If you fall on the less expensive side of the laser hair removal spectrum, you can expect to spend about $1,500 for three treatments for the bikini line.
If you start waxing at 21 and get one treatment every three months until age 55, you will have spent an average of $4,900 on waxing. Even if you fall on the expensive side of treatment, you will save nearly $1,500 by choosing laser hair removal.
Fraxel Laser
Brightening and skin resurfacing lasers are one of the most popular laser procedures. The Fraxel laser works by creating microscopic holes in the skin, creating a controlled wound, and using the skin's ability to heal to your advantage.
This process improves crepey skin, evens texture, and gets rid of excess pigmentation. A single treatment can improve the skin up to 50%. One treatment costs around $1,500-$2,000.
Cost Breakdown
Retinol, hydroquinone, or soy can offer a tiny fraction of the affects you receive from Fraxel. Let's say your favorite Retinol cream is $22.99, and you add a skin bleaching cream that contains hydroquinone, kojic acid, and bearberry extract for $70.
Between age 21 and 5 you will end up spending $4,827 for retinol (purchased every two months) and $9,800 for your hydroquinone cream (purchased four times a year). That's a total of $14,627 which is more than $8,000 more than four Fraxel laser treatments.
Venus Legacy Laser
The Venus Legacy is a skin-tightening laser that is used to contour the body and face, firm sagging skin, and reduce cellulite. Yes, really. It uses pulses of magnetic or radio frequency energy to heat deep layers of skin tissues. This encourages the renewal of elastic and collagen.
The treatment is gentle, painless, and one of the best lasers for use during your 20s and 30s. Venus Legacy can also be used in combination with other treatments, like fillers, to tackle early aging and provide more effective results than creams and serums.
Cost of Venus Legacy Laser Treatments
Cost will vary based on which body area you treat, as well as your age. You can expect to pay between $1,200-$3,000 or more per treatment. on average, people require four-to-eight sessions.
Eight sessions would cost around $12,000. This comes out about $600 dollars cheaper than what you would spend on 35 years' worth of Nerium Firming Body Contour Cream.
Pico Genesis
Pico Genesis treatment uses ultra-short laser pulses to deliver a photo-mechanical shockwave. This shatters the pigment and stimulates remodeling in the upper layers of the skin. This results in a brighter, more even skin tone.
Even better, it is achievable in significantly fewer treatments. Treating one or two areas of the face with deep sun damage will cost around $800-$1,500. A full-face treatment will cost around $1,300.
Cost Breakdown
First, let's point out that some areas of deep sun damage can not be removed with product alone. However, two of the best products include Skinceuticals C E Ferulic ($163) and Paula's Choice Resist 10% Niacinamide Booster ($42).
If you purchase the C E Ferulic twice a year, and the niacinamide serum three times a year, you will spend $15,820 over the course of 35 years. That is over $8,000 more than the cost of six full face PICO Genesis treatments.
Exilis Ultra
Exilis Ultra is a relatively new laser that uses radio frequency and ultrasound energy to tighten skin. It can be used everywhere, abs, thighs, jowls. There is no downtime, it only takes a few treatments, and it is incredibly effective.
Exilis Ultra costs about $1,500 per treatment for the lower face area. While comparing skin-tightening laser with topical products of devices is tricky, you could save money by choosing laser treatment.
If you spend an average of $7,700 over 35 years on serums/devices, you could save almost $2,000. Furthermore, the average cost of a facelift is $6,652 according to the American Society of Plastic Surgeons. So, even a facelift is cheaper than 35 years' worth of skin tightening products and devices.
Laser Treatment in Reston
While it may cost more up front, laser treatment is almost guaranteed to save you money in the long run. If you would like to learn more about these revolutionary treatments, please contact Reston Dermatology today.