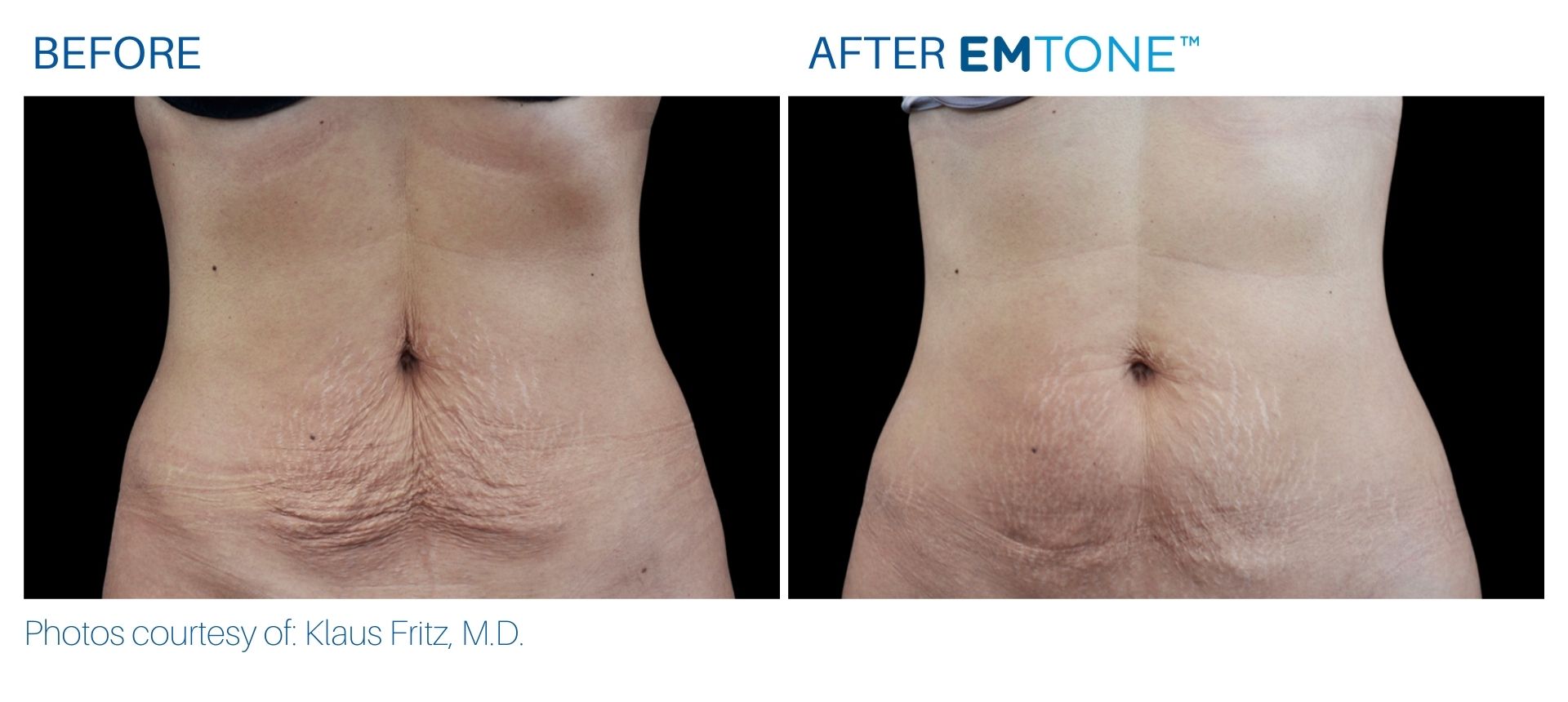 Emtone Before and After | Real Results from Real Patients
Emtone before and after results show how effective this popular cellulite treatment is at smoothing out skin, reducing the appearance of dimpled skin. Cellulite is a common skin condition that affects a person's body confidence and disables them from feeling comfortable in their skin. Emtone provides a solution for cellulite using advanced technology to stimulate collagen production. The treatment results in an impressive reduction of cellulite and promotes smooth, healthy-looking skin.
Read on to see Emtone before and after images and learn more about this impressive cellulite reduction treatment.
Emtone before and after pictures show actual individual results. However, as with any cosmetic skin treatment, results will vary.* Successful treatment experiences require appropriate patient selection and an experienced, skilled provider to perform Emtone treatments. The best way to ensure you receive optimal results is to schedule a consultation with a reputable medical spa.
Emtone can improve the appearance of cellulite, no matter where it appears. The most popular Emtone treatment areas include:
The buttocks
The abdomen
The legs (upper thighs)
The upper arms
Emtone combines two technologies to target the cause of cellulite and rejuvenate the skin's appearance. During treatments, Radiofrequency (RF) and acoustic energy penetrate the deep layers of the dermis. Clinical studies show that thermal heating combined with acoustic vibrations initiate a cascade of therapeutic responses. The responses include:
The disruption of fat cells: reducing the subcutaneous layer that bulges through the skin's connective tissue causing the appearance of cellulite.
The creation of collagen: strengthening the connective tissue that supports the skin and holds the bottom layer of fat in place.
Increased circulation: stimulates the removal of metabolic waste.
As seen in Emtone before and after pictures, this treatment dramatically smooths skin and improves the appearance of cellulite. Many patients see improvements in their skin after a single treatment. However, most patients require a series of treatments. Typically 4 treatments are needed for an optimal outcome. Improvements in skin texture are evident within weeks after the procedure. However, as with every body contouring treatment, individuals' experiences will vary.*
Achieve Your Own Emtone Before and After Transformation
If you are ready to secure your own impressive Emtone before and after results, contact Reston Dermatology + Cosmetic Center. We are a leading provider of Emtone treatments in the Reston, Virginia area. Call us at 703-775-2190 to schedule your complimentary consultation and discover how Emtone can help reduce the appearance of cellulite.