Prescription Dysport® injectable is a U.S. Food and Drug Administration-approved treatment for temporarily lessening or eliminating moderate-to-severe frown lines between the eyebrows. Like BOTOX® Cosmetic, Dysport® injectable is placed directly into the muscle underneath a furrow, weakening the muscle to the point where it cannot contract.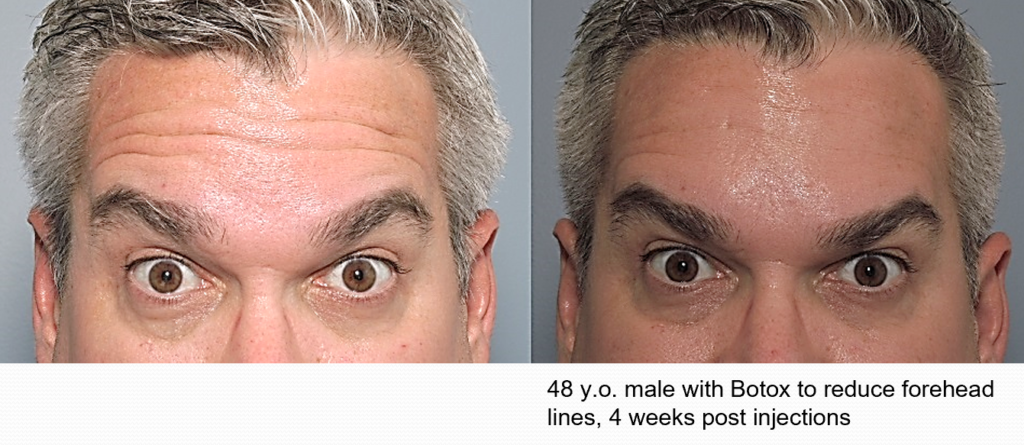 Dysport®, also known as Reloxin, is made from a neurotoxin produced by the bacterium Clostridium botulinum; it is the same neurotoxin used in BOTOX® Cosmetic.
Applications for Dysport®
Medically, Dysport® injectable is used to treat excessive underarm sweating; symptoms of cervical dystonia, which include neck pain and abnormal head position; and muscle spasms. Cosmetically, Dysport injections are used to treat the following:
Forehead furrows
Frown lines
Crow's feet
Skin bands on the neck
Dysport® Procedure and Results
Using a very fine needle, Dysport® injectable is placed directly into facial muscles that are causing furrows and lines. No anesthetic is required, but some doctors choose to numb the area to be injected with ice packs or a topical anesthetic cream. Results can usually be seen within a few days of treatment, and typically last up to 4 months, although areas that are treated on a regular basis may retain results longer. Injections should be given only by qualified medical professionals.
Xeomin®

Xeomin® is a prescription medication used to effectively treat intramuscular conditions such as blepharospasm, or abnormal involuntary closing of the eyelid.
Xeomin® is composed of botulinum toxin type A, a naturally occurring protein that is produced by the bacteria Clostridium botulinum. Xeomin® is injected into the affected muscles in order to reduce their activity. Xeomin® does not stop the muscle from moving entirely; instead, it modifies the contractions. This is achieved by inhibiting a body chemical called acetylcholine from signaling all of the nerves within the muscle to contract.
Blepharospasm is a condition involving abnormal involuntary spasms of the eyelids. Injections of Xeomin® administered into the muscles of the eyelid can help relieve spasms for many patients.
The number of injections necessary will vary from patient to patient, depending upon the number of muscles affected and the severity of the condition. The results of treatment with Xeomin® are usually seen after one week and last, on the average, up to 12 weeks.
Risks of Xeomin® Treatment
While an effective medication for muscle spasms, treatment with Xeomin® carries certain risks. Whether they occur hours or weeks after treatment, the following symptoms may be life-threatening and require urgent medical attention:
Difficulty speaking, swallowing or breathing
Muscle weakness throughout the body
Double vision
Blurred vision
Drooping eyelids
Change in voice quality
Problems with articulation
Loss of bladder control