How to Get the Best CoolSculpting Results
Body contouring treatments like CoolSculpting have become very popular. These non-invasive, non-surgical treatments can reduce fat in easy, quick sessions. While results will vary, there are a few things you can do to get the best CoolSculpting results.
Understanding CoolSculpting
This innovative treatment uses cold technology to freeze and destroy fat cells. CoolSculpting results in a reduction of fat cells with no surgery and no downtime. CoolSculpting uses a vacuum like applicator to target the unwanted fat on your body. It is FDA approved to treat nine different areas of the body, making it great for almost anyone. These areas include: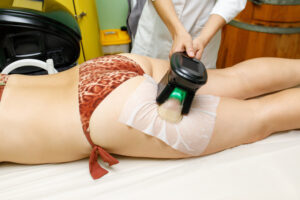 Under the jawline
Thighs
Abdomen
Flanks
Bra fat
Back fat
Upper arms
Underneath the buttocks (banana roll)
CoolSculpting Treatments
During the treatment, patients may experience some initial discomfort from the cold. After a few minutes, the cold numbs the area. Patients may feel a slight tugging, pulling, or sucking sensation from the device applicator.
Each treatment is normally 30-45 minutes long, depending on the treatment area and patient's goals. You are free to resume normal activities after your treatment, but you may experience temporary redness, bruising, itching or numbness at the treatment area. This normally goes away after a few days. CoolSculpting results take a few weeks to show up.
Realistic Expectations
CoolSculpting results don't happen dramatically. You won't notice any change for a few weeks because it takes time for your body to break down and dispose of the dead fat cells. Most patients notice a difference around 3 weeks, but CoolSculpting results will continue to appear for up to six months after treatment.
Wear Loose Clothing
Wear loose, comfortable clothing during and after your treatment. allow the treatment area to breath and recover. Wearing tight clothing may prolong or exacerbate any soreness in the treatment area.
Hydrate, Hydrate, Hydrate!
Water is essential to life so it should come as no surprise that staying hydrated will help your body eliminate fat cells quicker. Drinking plenty of water before and after your procedure will help your body recover faster, which leads to seeing your CoolSculpting results quicker.
Rest. Relax. Recover.
After your treatment, if you experience soreness in the treatment area its important to relax and give your body the rest it needs to recover. Don't push yourself by going to the gym or wearing tight clothing that could irritate the treatment area. Instead, give the treatment area time to recover.
If you are experiencing discomfort, you can take ibuprofen or acetaminophen. You may also want to apply a warm compress to the treatment area.
Maintaining CoolSculpting Results
CoolSculpting is permanent. Once the fat cells are destroyed, they can never come back. However, if you gain weight, your remaining fat cells can still grow and expand. To maintain your CoolSculpting results, its important to lead a healthy, active lifestyle.
Best CoolSculpting Results
CoolSculpting is a great solution for stubborn fat. It is safe, easy, and convenient. There is no surgery and no downtime required. If you are ready to try CoolSculpting, contact Reston Dermatology and Cosmetic Center today.