CoolSculpting®

What is CoolSculpting®?
CoolSculpting is a breakthrough, non-invasive procedure that uses patented cooling technology to eliminate fat without surgery. This clinically proven technique is designed to selectively reduce the fat in problem areas that has proven resistant to reduction through diet and exercise. CoolSculpting gently cools targeted cells in the body to induce a natural, controlled elimination of these unwanted fat cells.
CoolSculpting is the first and only nonsurgical procedure to selectively reduce fat layers in problem areas that include muffin tops, love handles and back fat. Developed in 2005 and backed by strong clinical research, CoolSculpting is based on Cryolipolysis (cold lipolysis)-the use of precisely controlled cooling to remove fat.
Based on the scientific principle that fat cells are more sensitive to cold than the overlying skin and surrounding tissues, CoolSculpting reduces the temperature of fat cells in the treated area. This is intended to promote fat cell elimination through a natural biological process known as apoptosis, without causing scar tissue or damage to the skin, nerves or surrounding tissues.
Coolsculpting® Patient

Patients generally start to see results as soon as three weeks following treatment, with the most dramatic results occurring over a period of two to four months. But your body will still flush out fat cells and continues doing so for up to six months after treatment.
Ultherapy®
Using ultrasound energy, Ultherapy® treatment lifts and tightens skin on the face and neck. Ultherapy treatment works on the deep layers of tissue usually targeted during a facelift or neck lift, but leaves surface skin alone. By heating tissue with sound waves, collagen production increases, resulting in younger-looking skin. According to its manufacturer, Ulthera, Inc., Ultherapy treatment "is the only noninvasive procedure FDA-cleared to lift skin on the neck, chin and brow."
The Ultherapy Procedure
During Ultherapy treatment, which is performed in a physician's office, the skin is cleansed, and ultrasound gel is applied to the target area. The Ultherapy handpiece is placed on the skin, delivering low-level focused heat as it moves over the target area. Mild discomfort may be experienced as the heat is delivered beneath the skin. Discomfort levels vary from patient to patient, and on the area being treated.
It takes 60 to 90 minutes to treat the entire face and neck; a partial face or brow treatment usually takes 30 minutes.
Ultherapy® Patient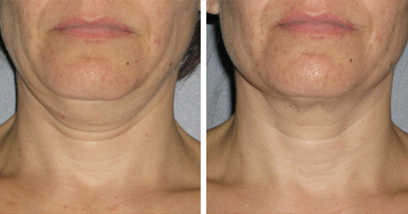 Ultherapy Treatment Results
Ultherapy treatment is used on mildly to moderately loose or sagging skin on the face and neck. Results, however, vary from patient to patient, and on the condition and quality of the skin being treated.
Treatment that "lifts" the brow reduces excess skin on the eyelids, making the eyes look more open. Treatment that lifts and tightens sagging skin on the neck and under the chin eliminates or reduces a double chin or "turkey-gobbler."
Although some patients may see immediate improvement, results of Ultherapy treatment are usually apparent within 2 to 3 months, during which old collagen is replaced with new, more elastic collagen. At 6 months, full benefits are attained. Most patients need only one treatment, but those with significant issues may require more. It is possible for results to last up to a year.